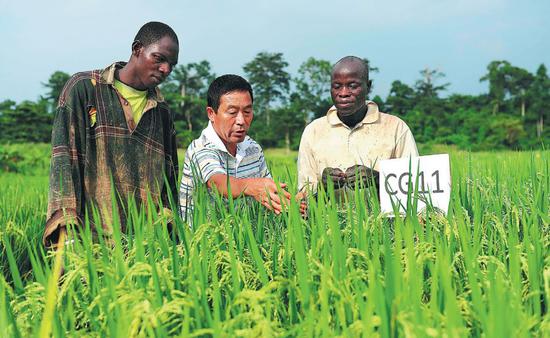 A Chinese agricultural expert introduces a new species of rice to farmers in Cote d'Ivoire. China has sent technicians to the country to back its agricultural modernization. (Photo:Ding Haitao / Xinhua)
Special: Forum on China Africa Cooperation 2018
Agricultural training sees West African nation's rice become more self-sufficient
The West African nation of Cote d'Ivoire is on the way to developing self-sufficiency of its rice with help from experts from China.
For the past three years, agricultural experts have been teaching rice cultivation techniques and processing skills to help promote the modernization of the agricultural sector in the country.
The most recent China-backed rice farming class ended last month with 80 people trained.
A representative from Cote d'Ivoire's ministry of agriculture and rural development, said the training demonstrated the friendly and cooperative relations between China and Cote d'Ivoire.
The classes promote agricultural skills to help implement Cote d'Ivoire's 2012 to 2020 rice development strategy and to realize self-sufficiency of the production of rice in the future.
Tang Weibin, Chinese ambassador to Cote d'Ivoire, said agricultural cooperation between the two countries is expanding and deepening.
Since 1983 when China and Cote d'Ivoire established diplomatic relations, fruitful achievements have been made in various fields.
The two will continue to enhance collaboration in politics, trade, culture and military, and promote the implementation of key projects, he said.
Wang Xuehua, professor from Hunan Agricultural University, told Xinhua News Agency that the Chinese experts introduced rice-nursery technology that can guarantee production and quality during both drought and periods of heavy rainfall.
Turning up the soil for one hectare of farmland traditionally would take 32 people an entire day, but with efficient farming machinery that task can be reduced to just four hours, Wang Yao, deputy general manager of Hunan Xiangyafei Agricultural Service was quoted by Xinhua as saying.
"We have learned of many practical and innovative agricultural technologies, which can help increase food production and improve planting capability," said Fofana, one of the farmers who have taken the training classes.
Samba Keita, 60, has planted rice in Cote d'Ivoire for over 40 years.
He heard about the training sessions and decided to come and learn more about it.
Keita said that despite his age and experience, it is always good to learn new things and improve methods of production.