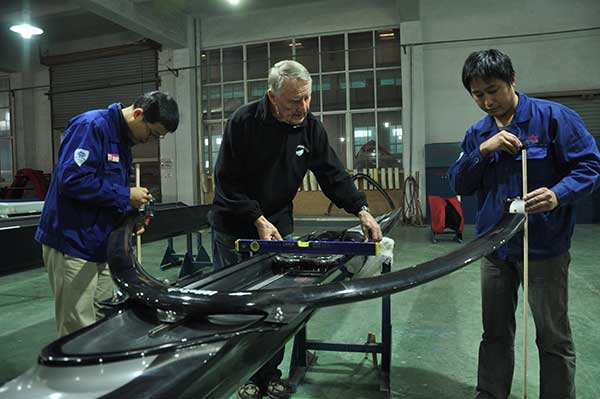 Klaus Filter instructs Chinese workers at Sino Eagle Group, a leading manufacturer of rowing shells in Fuyang, Zhejiang province. The German designer is a witness-and a major contributor-to the company's growth over the past two decades.(Photo: China Daily/Liu Xiangrui)
Klaus Filter, 83, a German designer of rowing shells, helped transform a local workshop into a global company.
Klaus Filter's romance with China began more than two decades ago, thanks to a dispute.
In 1994, when a world rowing competition was being held in the United States, a European company that makes rowing shells accused a Chinese boat builder of copying their designs.
Filter, now 83, a German designer of racing shells, was chairman of the materials commission of the International Rowing Federation-aka FISA-at the time. He was asked to inspect the issue.
Although impressed by the craftsmanship of the Chinese boats, Filter brought the European manufacturer's concerns to the Chinese builder, Xiong Zhangyou.
"He (Xiong) confessed to me he had no experience and could only make copies," Filter recalls during a recent visit to Fuyang city in East China's Zhejiang province.
Xiong also told Filter the mistake was unintended as the industry had just started in China and that boat makers had little knowledge of intellectual property rights back then.
It was also a time when the FISA was trying to bring lightweight rowing into the Olympic Games to encourage more people to participate in the sport. So, Filter suggested that Xiong should seize the opportunity.
Xiong agreed but jokingly asked Filter to come to China to help him. Filter immediately said "yes".
"That was also the beginning of our friendship," Filter says.
The following year, Filter paid a visit to Xiong's factory in Fuyang and was shocked to find that it was a home-based workshop with a few inexperienced workers.
Then, for one week, Filter worked 16 hours a day with Xiong and his employees to successfully make molds for the factory. Until then Xiong didn't have them.
When Xiong wanted to thank him for his generosity, Filter asked Xiong if he could donate his used boats to help promote the sport in developing countries that saw scanty participation in international contests mostly because boats were costly back then, Filter says.
Filter and Xiong's ties have moved to a different level since.
He accepted the invitation to be the chief expert and technical director of Xiong's factory after his retirement from the FISA commission in 2000.
Since then, Filter has visited Fuyang almost every year, playing a crucial role in the factory's transformation from a local workshop, established by Xiong in 1985, to one of the world's biggest manufacturers of rowing boats under the name Sino Eagle Group.
The group, which also has a yacht plant, currently has more than 400 employees.
In 2003, the company made a breakthrough. Its Wintech racing shells won the bid for official boats for the 2004 Athens Olympics' rowing competitions, beating many well-established companies. Sino Eagle has been the official boat supplier for four consecutive chapters of the Games, an unprecedented trend in Olympic history.
The company now produces more than 10 percent of the world's rowboats, of which more than 80 percent are exported. Filter has participated in the design of almost all its products.
"We made fast advances ... because we invited the best expert in the world," Xiong says.