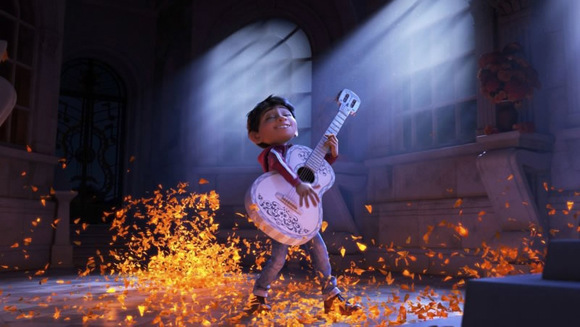 A frame of the animated family comedy "Coco". (Photo/Video screenshot)
The animated family comedy "Coco" has topped the Chinese box office, taking in an impressive 32.7 million U.S. dollars in its third week on release.
Paddington 2 took second place with 14.5 million dollars.
Thanks to word-to-mouth and only modest competition, "Coco" has performed solidly in China following its opening weekend which saw it make 18 million dollars.
"Coco," a colorful celebration of Mexico's annual Day of the Dead, has totaled 128 million dollars in the Chinese market after 17 days on general release and 254 million dollars around the world with about 65 percent of international markets open, Variety reported.
The Paddington sequel, produce by StudioCanal and Heydey Films, came into China as the final major foreign film of the year and saw a strong local marketing push with nearly 70,000 screenings daily, ensuring it easily sailed into second place.
The first "Paddington" movie was well-received by Chinese moviegoers when it opened after Chinese New Year in March 2015, taking in 16.8 million US dollars.
Oxide Pang's "The Big Call" opened in third place while animated feature film "Loving Vincent" ranked fourth.
British shark thriller "47 Meters Down" sits in fifth place with 3.72 million US dollars and like "The Big Call," its performance saw a decline on its second and third days.
The Hong Kong Chinese fantasy film "The Thousand Faces of Dunjia," directed by Yuen Woo-pingadn and produced by Tsui hark, took sixth place with 1.95 million dollars.
Unlike the North America film market, the expected smash hit "Star Wars: The Last Jedi" is not set to be released in China until January 2018 - one month later than in other markets.
The delay gives "Coco" a chance to continue its journey up the ranks of the most successful animated films in China.