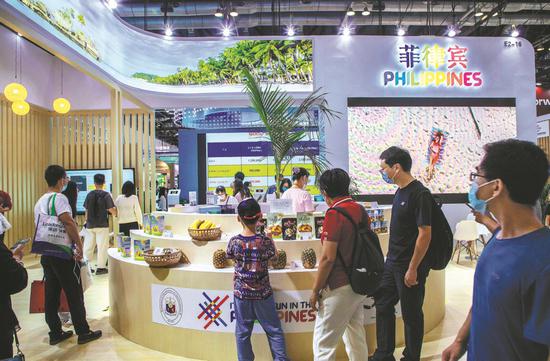 Visitors gather at the Philippines booth during the 2022 China International Fair for Trade in Services in Beijing in September. (HU XUEBAI/FOR CHINA DAILY)
The full implementation of the Regional Comprehensive Economic Partnership pact will help expand trade and investment between China and other RCEP signatory countries, said China's Ministry of Commerce on Wednesday.
The ministry's comments came as the Philippines deposited its instrument of ratification of the RCEP agreement to the secretary-general of ASEAN on April 3, marking the final step towards the agreement's full implementation.
Under the RCEP rules, the mega trade deal will come into effect 60 days after the deposit of the ratification and therefore will enter into force for the Philippines on June 2. This move indicates that the world's largest free trade agreement will come into full effect for all 15 signatory countries, the commerce ministry said in an online statement.
China is the Philippines' largest trading partner, the top import source and the third-largest export market. Under the RCEP rules, the Philippines will enjoy favorable tariff treatment for goods trade with China, including automobiles and parts, certain types of plastic products, textile and clothing products, air conditioning and washing machines. After a transitional period, tariffs on these products will gradually reduce to zero from their current range of 3 percent to 30 percent of the tariff rate, said the commerce ministry.
In the service and investment sectors, the Philippines has committed to opening up over 100 service sectors and significantly opening up ocean shipping and air transport services.
The full implementation of the RCEP pact will meet the demand for China's consumption expansion and upgrading, consolidate regional industrial and supply chains, and promote long-term prosperity and development of the global economy, said the Ministry of Commerce.