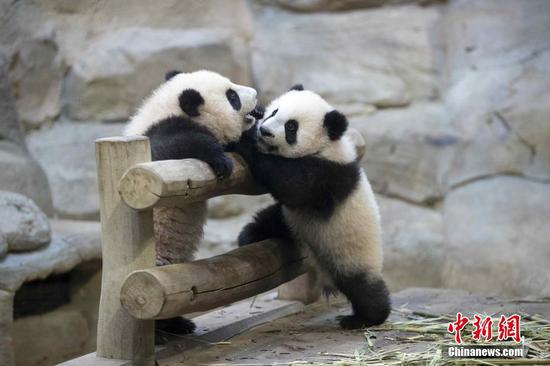 Photo shows Huan Huan and Yuan Zai at the Beauval Zoo. (Photo Provided to China News Service)
(ECNS) -- The lease of giant pandas Huan Huan and Yuan Zai with France has been extended to 2027, said the Beauval Zoo.
Rodolphe Delord, director of the Beauval Zoo, announced the news after returning to France, according to a French media on Tuesday.
Delord hopes that Huan Huan and Yuan Zai can stay even after 2027. He said that if the relationship between France and China continues to improve, there is no reason the two giant pandas should be sent back to China.
The Beauval Zoo have five giant pandas now, including three cubs of Huan Huan. The zoo expressed hope that it would renew the lease of the Chinese giant pandas before French President Emmanuel Macron's visit to China.
Huan Huan and Yuan Zai, who went to the zoo in 2012, should have been sent back to China in 2022 after the 10-year lease expired, but their return was delayed due to the pandemic.
Visitors to the Beauval Zoo have hit record highs since the arrival of the pandas. In 2022, the zoo received two million visitors, an increase of 43 percent over 2021.