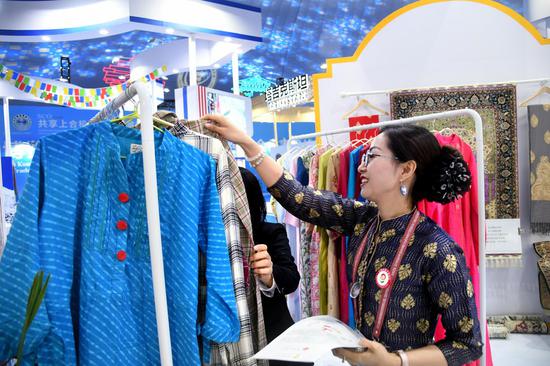 An exhibitor introduces products to a guest during the 2021 Shanghai Cooperation Organization (SCO) International Investment and Trade Expo in Qingdao, east China's Shandong Province, April 26, 2021.(Xinhua/Li Ziheng)
China's trade with other member states of the Shanghai Cooperation Organization (SCO) expanded 20 times from 2001 to 2020, official data showed.
The trade volume between China and these countries reached 245 billion U.S. dollars last year, up from 12 billion dollars in 2001, according to the Ministry of Commerce.
As of the end of July, China's total investment in other SCO member states exceeded 70 billion dollars and the contracted projects by Chinese companies in these nations were valued above 290 billion dollars, according to the ministry.