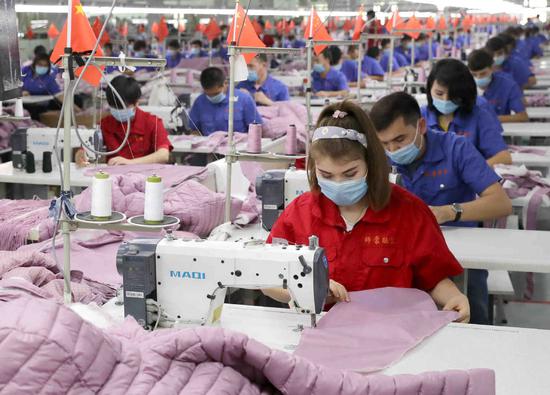 Workers make down-filled coats at a factory in Jiashi county, Xinjiang Uygur autonomous region. (WANG ZHUANGFEI/CHINA DAILY)
Special: Xinjiang
Shaking off the poverty that has beset her family is not the only goal for Pashagul Kerim.
Over the past five years, she has also offered assistance to her impoverished peers to get them out of their poor financial situations.
Raised in a low-income family in Wuqia county, Xinjiang Uygur autonomous region, Pashagul lived a very hard life after her father passed away when she was a child. She and her two brothers were supported by their mother with a rather meager income.
She was too young to help her mother, but she was also distressed by their hardships. She got the opportunity that might change her life in June 2006 when the county released a campaign to organize labor forces to work in Dongguan, southern Guangdong province.
She signed up without hesitation and won a job in a factory producing electronic components.
The work was not that easy for her in the beginning. She was afraid of showing weakness and making mistakes. But she knew that if she kept working with such cowardice, she wouldn't improve, let alone master more techniques or make more money. So she decided to make friends with her colleagues and ask for their advice during her leisure time.
Her skills soon improved, and her monthly salary rose to 2,700 yuan ($410) from 2,000 in just half a year. Now she is a senior worker at the factory, earning over 4,500 yuan per month.
But she didn't stop there. She knows that more people like her in poor areas struggle with a lack of knowledge or jobs.
She then called her cousins and friends to let them know they had the chance to live a better life if they could find a good job.
Since 2015, about 521 villagers have joined her to find jobs in Guangdong, among whom 210 were from poverty-stricken families. In the past five years, she has helped 179 impoverished households earn a living in the province, bringing them incomes totaling 630,000 yuan.
Her work paid off. Recently, she was recognized as a national model worker by the All-China Federation of Trade Unions in Beijing.
She also went above and beyond her role as a skilled worker, being warmhearted to people around her.
Since 2015, she has spent over 30,000 yuan to buy train tickets for her impoverished peers so they could travel out of the village to find work. In 2017, she assisted one of her peers for about 10 days while he was in the hospital and paid his medical fees of about 19,000 yuan.