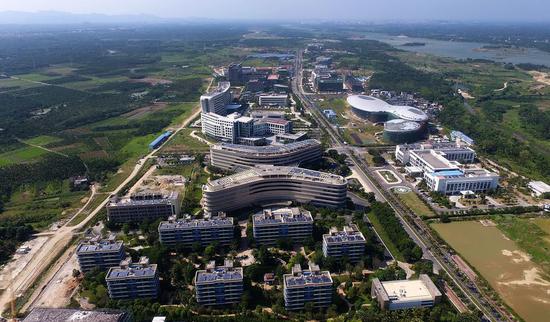 Aerial photo taken on March 20, 2019 shows the Lecheng international medical tourism pilot zone in Boao Town of Qionghai City, south China's Hainan Province. (Xinhua/Guo Cheng)
Special: Battle Against Novel Coronavirus
South China's Hainan Province has stepped up efforts to boost its medical sector with the Lecheng medical pilot zone in Boao taking the lead in opening up.
An exhibition on innovative medicines and medical equipment opened in the pilot zone Friday, with nearly 300 exhibits from 26 transnational pharmaceutical companies on display.
The exhibits have not officially entered the Chinese market, but can be used for the treatment of patients exclusively in the Hainan Boao Lecheng International Medical Tourism Pilot Zone, thanks to the area's advantageous policies targeting imported medicines and medical equipment, according to the pilot zone administration.
Founded in 2013, the Lecheng pilot zone is expected to be internationally advanced in medical technology, equipment and medicines by 2025.
Twelve centers to provide support medical services for the pilot zone were also unveiled Friday, covering the fields of real-world data research, pharmaceutical technology transfer, insurance and international exchanges.
So far, industrial clusters in four fields have taken shape in Lecheng, including stem cell clinical research and tumor treatment.
FASTER APPROVAL OF IMPORTED MEDICINES, MEDICAL DEVICES
An action plan was issued in September 2019 to allow faster approval of imported medicines and medical equipment in the pilot zone and delegate the evaluation power of senior professional titles in the health sector to the area.
With a package of favorable policies, more medicines that have not received import approval elsewhere in China can be available in the Lecheng pilot zone.
By the end of March, 64 kinds of imported medicines and medical equipment in urgent clinical need had been approved to be imported and used in the zone, among which 285 patients have benefited from the faster approval.
The approval process of imported medicines has been cut down to less than two days, said Liu Zhefeng, vice director of the pilot zone administration, adding that Lecheng also has preferential policies about import tariffs.
"Patients can take small quantities of imported oral drugs outside the pilot zone if they are in urgent clinical need, but only for personal use," said Liu.
Lecheng has seen many of the country's very first imported medicines and medical instruments. For example, the bio-engineered COMBO stent, a dual therapy stent, was implanted to treat a patient in Lecheng in October 2018, the first such surgery on the Chinese mainland, due to the granted approval of the imported stent.
So far, 51 imported medicines and medical devices have made their debut in China in Lecheng, including the first imported nine-valent HPV vaccines.
REAL-WORLD DATA APPLICATION
Lecheng is also the country's first pilot zone using real-world data (relating to patient health status and/or the delivery of health care) in the medical sector, said the administration.
A glaucoma drainage tube used in glaucoma surgery, developed by pharmaceutical company Allergan, has been granted registration by the National Medical Products Administration on March 26.
Meanwhile, it is the first medical device using real-world data to be approved in China as it employs real-world evidence in Lecheng (clinical evidence regarding the usage and potential benefits or risks of a medical product derived from the analysis of real-world data) as part of the clinical assessment.
"It represented a good start to apply real-world evidence in the approval of medical devices registration, and will be conducive to introducing more global advanced medicines and medical equipment into the Chinese market," said Sun Xin, director of the Chinese Cochrane Center of West China Hospital Sichuan University.
Currently, two more medical products are under research based on real-world data, including a medical product developed by Johnson & Johnson to treat cataracts.
Lecheng pilot zone signed an agreement with Boston Scientific, a U.S.-based medical technology company, in January to cooperate on the use of real-word data in more areas and speed up importing innovative medical devices to China.
"Lecheng, an integral part of the Hainan free trade port, will continue to innovate and open up," said Gu Gang, director of the Lecheng pilot zone administration.