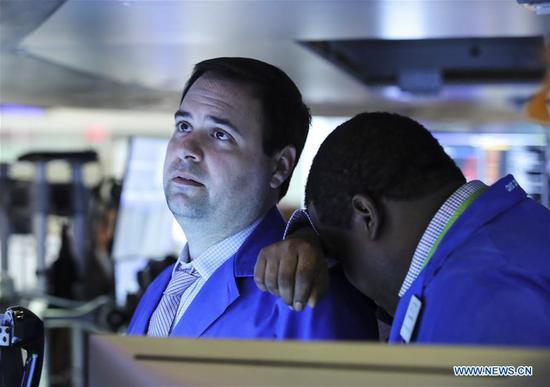 Traders work at New York Stock Exchange in New York, the United States, Feb. 27, 2020. U.S. stocks closed sharply lower on Thursday as investors fled the stocks market and flocked into safe-haven assets. The Dow Jones Industrial Average fell 1,190.95 points, or 4.42 percent, to 25,766.64. The S&P 500 was down 137.63 points, or 4.42 percent, to 2,978.76. The Nasdaq Composite Index was down 414.29 points, or 4.61 percent, to 8,566.48. (Xinhua/Wang Ying)
Special: Battle Against Novel Coronavirus
Against the global backdrop of the spreading COVID-19 virus, the Dow Jones Industrial Average sank nearly 1,200 points Thursday, which is the biggest point drop in history.
The S&P 500 is now 12% below the all-time high it set just a week ago. It has been the worst week since October 2008 for the U.S. stock market.
U.S. President Donald Trump said on Tuesday that the U.S. stock market will crash if he loses the election this year.
Trump told business leaders on his trip to India that stocks will jump higher if he is reelected, adding "if I don't win, you're going to see a crash like you've never seen before."