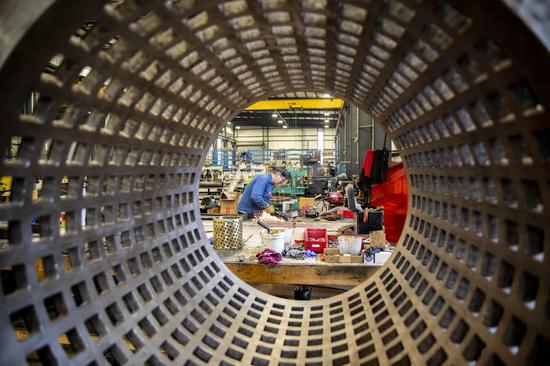 An employee works in Birtley Industrial Equipment, a Chinese-owned manufacturing firm based in Lexington, the U.S. state of Kentucky, Nov. 26, 2019. (Xinhua/Wang Ying)
Chinese and U.S. enterprises were urged to foster engagement and cooperation at a forum in the Bay Area, despite ongoing trade frictions between the two countries.
Ken Wilcox, chair of Asia Society Northern California, said his organization is in favor of building a better relationship between the United States and China.
"We are not among those who favor decoupling; to the contrary, we favor engagement," he said.
Addressing the 2019 Corporate Social Responsibility Forum on Tuesday, Wilcox underscored the importance of engagement and understanding between both peoples and countries by recalling his own experience as the president of a U.S.-China joint venture bank in Shanghai, the financial hub in eastern China.
"Engagement can lead to greater understanding and greater understanding can lead to further engagement... understanding each other makes life better and makes it easier to collaborate," Wilcox noted.
"Globalization is here, and it's here to stay. There is no way we can turn back the clock," he said.
"There is so much (collaboration) ahead of us ... that will be good for China, good for the U.S. and good for the rest of the world," he said.
The forum, attended by more than 150 Chinese and U.S. business leaders, enterprises, tech executives and investors, was co-hosted by Chinese Enterprise Association-California and Asia Society Northern California.
At the forum, Chinese Consul General in San Francisco Wang Donghua said that businesses from China and the United States have invested heavily in each other's countries and have made great contributions to local communities by creating job opportunities, offering more options for local consumers, and increasing tax revenues for local governments.
"The two-way investment between our two countries, by the end of 2018, exceeded 214 billion U.S. dollars," he said.
The investment by Chinese companies in the United States supports 140,000 new American jobs each year on average, Wang said.
He said Tuesday's forum was also an opportunity for Chinese and U.S. business leaders to exchange ideas on how to better fulfill their corporate social responsibility, so as to create a better environment for their own businesses.