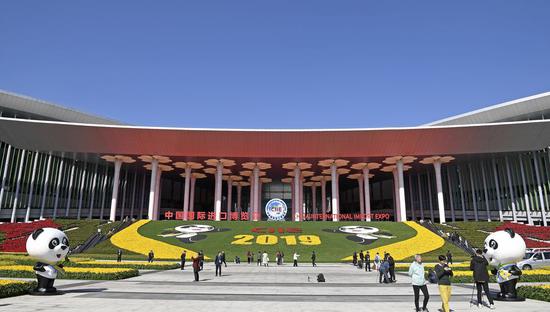 Photo taken on Nov. 9, 2019 shows the National Exhibition and Convention Center in Shanghai, east China, where the second China International Import Expo (CIIE) was held Nov. 5-10. (Xinhua/Wang Peng)
The China International Import Expo (CIIE) provides a great platform for Chinese and U.S. companies to go further together, said U.S. business and government representatives.
This view is widely shared by U.S. companies and officials who participated in the second CIIE held in Shanghai on Nov. 5-10. One month later, many have expressed their wish to take part in next year's Expo.
SOLID GAINS
"The CIIE experience is totally beyond my imagination," said Chen Bing, president of Birtley Industrial Equipment, a company based in Lexington, the U.S. state of Kentucky.
Established in 2013, Birtley is a producer of centrifuges for coal cleaning. With quality-based reputation, it has won the hearts of various picky American clients and become a competitive player in the specified area.
Chen chose to join the 2nd CIIE at a time when the coal industry began to revive from its bleak years worldwide. "I believed that good-quality centrifuges would be in high demand in China, so I had a try on the Expo," Chen told Xinhua in a recent interview at his office in Lexington.
It turned out to be a wise decision. Having attended many professional expos related to coal cleaning and processing, Chen was rather surprised to find that CIIE offered even more opportunities for an industry as specific as the one Birtley belongs to.
"We've gained far more than what we had in other expos in terms of the amount of information, professional visitors, business contracts and intentions for cooperation," said Chen. "It's really fantastic."
Chen said that representatives from a U.S. engine maker, which was in a booth just across Birtley's at the Expo, shared similar views with him.
"We all feel that despite the recent trade tensions between China and the United States, the CIIE gave U.S. companies plenty of opportunities to explore the Chinese market," he added.
On the state level, Kentucky has been a proactive participant of the CIIE. In 2018, a team led by Governor Matt Bevin attended the inaugural Expo. This year, two companies from Kentucky -- Birtley and GE Appliances -- joined other 180-plus U.S. companies in presenting their products to potential Chinese clients.
The first CIIE created a "positive momentum for the state and China," Craig McKinney, director of international affairs at Kentucky's Cabinet for Economic Development, told Xinhua at his office in Frankfort, the state capital.
McKinney attended the second CIIE for two days while he was with a mission of state business development in November. "With it being the second annual one, there is still a newness and a freshness to it and excitement about it," he described. "The electricity and the buzz of being there. You could feel it."
Bruce Zou, international project manager and China specialist at Kentucky's Cabinet for Economic Development, was also on the mission. He said CIIE's results "speak for itself."
"A lot of major companies attended the CIIE (and said) 'my mind just got blown away' while seeing how impressive, how organized and how inclusive China is becoming," he said.
He noted the Expo has shown China's determination to turn into an import-driven, service-providing economy, which creates a lot of opportunities for Kentucky and U.S. businesses.
According to Liu Fuxue, vice director of the CIIE bureau, U.S. exhibitors made up the largest exhibiting area as a single country at the second CIIE, and bagged 12.96 billion dollars of preliminary deals, or 18.22 percent of the total.
EXPECTING MORE
Though the second CIIE has just concluded, many U.S. companies are already putting their eyes on the 3rd edition. At an overseas promotional event for CIIE held in New York on Nov. 25, Liu said a total of 41 U.S. companies have signed up for the third CIIE scheduled for November 2020.
"(The CIIE is) a fantastic opportunity for us and we're looking forward to doing it again in 2020," said Jeff Zettel, associate vice president of U.S.-based food service, facilities, and uniform services provider Aramark Corporation.
Zettel, who signed an exhibition agreement with the CIIE bureau at the New York event, said the company is "looking to continue to make new relationships, to make new friends and to identify new opportunities to grow our business."
Leo Chan, executive director of the Greater Cincinnati Chinese Chamber of Commerce (GCCCC), also inked an exhibition agreement on that day, successfully reserving a special booth with a space of 150 square meters.
Chan said that the GCCCC had failed to book a booth at the first and second CIIEs, "so I came early this time and flew to New York all the way from Ohio to join the roadshow."
"In talking with American business leaders and participants, I am aware that U.S. companies still give much priority to the Chinese market with enthusiasm, despite the current China-U.S. trade frictions," said Xu Chen, chairman of China General Chamber of Commerce-USA and president and CEO of Bank of China USA, at the promotional event.
Craig and Zou said that Kentucky is also ready to dispatch its delegation to the CIIE for the third time. According to Zou, the Cabinet is in the phase of figuring out what is the best way to participate in the event, such as getting a booth or sponsoring a reception, so as to attract more Chinese investment to the state.
Meanwhile, he hopes to encourage more Kentucky companies to join them in Shanghai, showcasing automotive, aerospace and agricultural products that Kentucky is famous for.
"We want ... our companies to be part of that global phenomenon happening next November," said Zou.