China's Hong Kong Special Administrative Region (HKSAR) has witnessed sound economic growth since its return to the motherland 22 years ago.
Hong Kong's overall economic size and its pillar industries such as finance, trade, tourism and logistics all enjoyed robust growth over the years under the policy of "one country, two systems."
In 1997, Hong Kong's real GDP was only 1.37 trillion HK dollars (about 175 billion U.S. dollars). In 2018, its GDP reached 2.8 trillion HK dollars (about 358 billion U.S. dollars).
As of May this year, Hong Kong's foreign exchange reserve registered 437.80 billion U.S. dollars, according to Hong Kong Monetary Authority (HKMA). Back in the end of 1997, the number was only 92.8 billion U.S. dollars.
As the world's seventh largest commodity trading center and an important international financial hub, Hong Kong enjoys robust trade business with the rest of the world.
From the rise of transit trade in the 1950s to the focus on manufacturing industries in the 1970s, Hong Kong has undergone an industrial restructuring as its economy grows stronger and its door opens wider.
Hong Kong's economy nowadays is highly service-oriented, with services sector bringing impetus to other sectors and creating most of the employment.
In addition, with a favorable business environment, Hong Kong topped the world in terms of Initial Public Offerings (IPOs). Hong Kong raised 37 billion U.S. dollars through IPOs last year alone, 120 percent more than in 2017. A total of 208 businesses debuted in Hong Kong last year, including smartphone maker Xiaomi, services platform Meituan Dianping and hotpot chain Haidilao.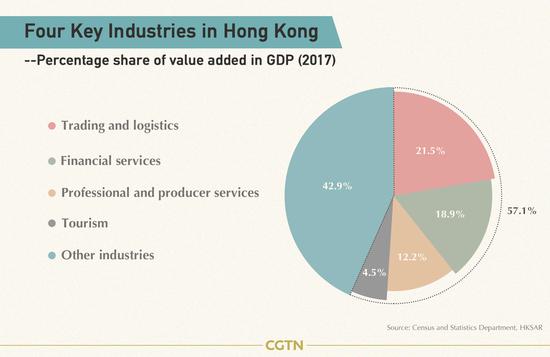 Hong Kong: The world's freest economy
Hong Kong is regarded as the world's freest economy for the 25th consecutive year, according to the 2019 Index of Economic Freedom report released by the Heritage Foundation in January.
The high regard demonstrates the HKSAR government's commitment to free market principles over the years.
Heritage Foundation said that Hong Kong has a highly resilient economy, a quality judicial system, a transparent government, an efficient regulatory system and an open global business environment.
Meanwhile, Hong Kong is ranked the second globally in the latest World Competitiveness Yearbook (WCY) 2019 published by the International Institute for Management Development (IMD).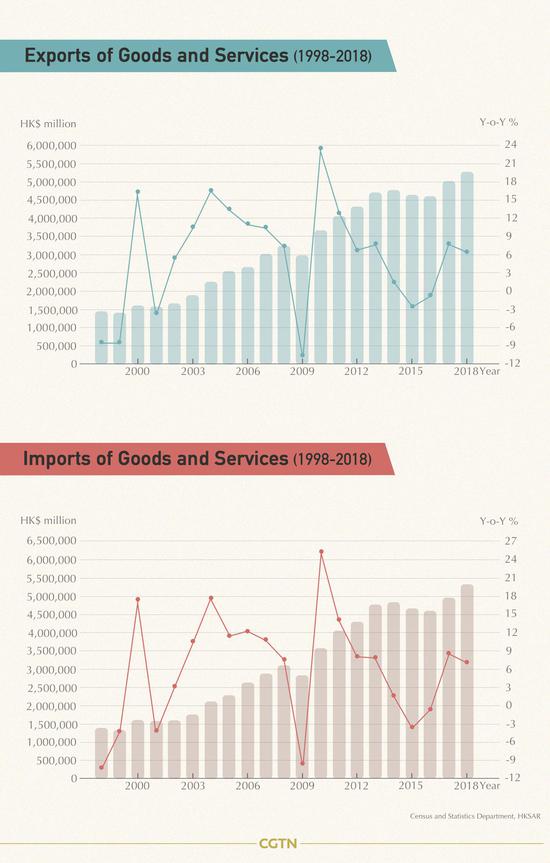 Embracing new opportunities for sci-tech development in the Greater Bay Area
As an important portal between the Chinese mainland and the international market, Hong Kong is playing its due role in the national science and technology development strategy, under the outline plan of Guangdong-Hong Kong-Macao Greater Bay Area.
In the past two years, the HKSAR government has invested about 100 billion HK dollars (about 14.5 billion U.S. dollars) in promoting science and technology research and development.
On May 8, the HKSAR government announced that a three-year science and technology talent admission plan will be launched, aiming to attract talents from overseas and the Chinese mainland and make up for the insufficiency of sci-tech talents.
Hong Kong residents are now eyeing more opportunities in the Greater Bay Area as they can enjoy an array of preferential policies and begin startups efficiently.
Guangdong Province, for example, announced on June 22 that talented people working in the Greater Bay Area will enjoy the personal income tax reduction.
The interconnected network of people, information, finance and exchanges in the area is conducive to cultivating entrepreneurs and leveraging resources.