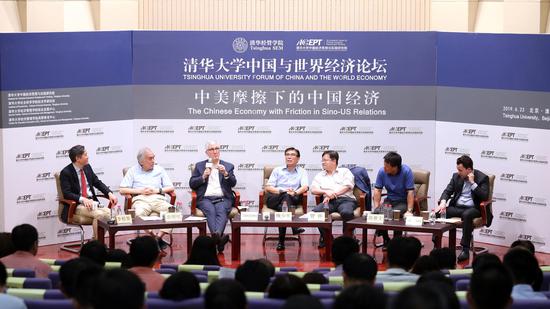 Guests at a seminar held on Sunday by the Academic Center for Chinese Economic Practice and Thinking (ACCEPT).
The China-U.S. trade war is one of issues that will attract a lot of attention during this year's G20 Summit, as investors are looking for signs of the year-long trade frictions to come to an end.
Chinese President Xi Jinping will meet U.S. President Donald Trump at the summit in Osaka, Japan, which gets underway on June 28. Timothy Stratford, a former U.S. trade official who is now managing partner of Covington & Burling LLP Beijing Office, said there is little hope for a deal to be reached at the meeting, as the final "10 percent" of the trade negotiation is the most difficult task to tackle.
Speaking at a seminar held on Sunday by the Academic Center for Chinese Economic Practice and Thinking (ACCEPT), a think tank affiliated to Tsinghua University, Stratford said the best case scenario is that the two presidents will instruct negotiators to go back and continue negotiations.
Direct economic impact from the trade war limited
Li Daokui, head of ACCEPT, described the direct economic impact from the trade war as limited and controllable. According to ACCEPT's latest research, which was released at the seminar, China's economy is expected to grow by 6.3 percent this year.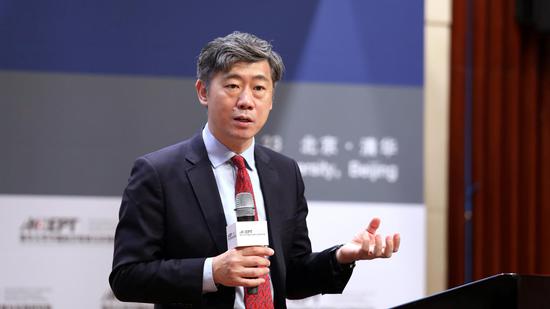 David Li Daokui, head of ACCEPT speaking at seminar held in Tsinghua University, June 23, 2019. / ACCEPT Photo
Against the backdrop of a continuous decline in global foreign direct investment, data from China's Ministry of Commerce show China's actual use of foreign capital in the first five months of 2019 was 54.61 billion U.S. dollars (excluding data on banking, securities and insurance), a year-on-year increase of 3.7 percent.
ACCEPT's report shows that countries along the "Belt and Road" have surpassed the United States to become China's biggest export destination. China's share of exports to these countries increased from 13.8 percent in January 2001 to 30.6 percent in April 2019.
From January to May 2019, China's imports and exports to the United States accounted for 11.7 percent of the country's total, while ASEAN and the EU accounted for 15.7 percent and 13.5 percent respectively.
Stock market turbulence
Global stock markets have seen huge fluctuations amid the trade war. According to ACCEPT, the Shanghai Composite Index and Shenzhen Composite Index fell by 24.6 percent and 34.4 percent respectively in 2018, while Dow Jones, Nasdaq and S&P 500 fell by only 5.6 percent, 3.9 percent, and 6.2 percent respectively.
The Shanghai and Shenzhen stock indexes have risen by 20.4 percent and 27.3 percent respectively so far this year, while the Dow Jones and S&P 500 both hit all-time highs last week.
Gao Shanwen, chief economist of Essence Securities told the seminar that Chinese markets had fully absorbed the influence of the Sino-U.S. trade war.
Gao said that the market had predicted a breakdown in negotiations, with negative sentiment erasing gains of an estimated 15 percent.
"If not for this reason, the Shanghai Composite Index will be 15 percent higher than the current level. It should be at 3,500 points," Gao said.