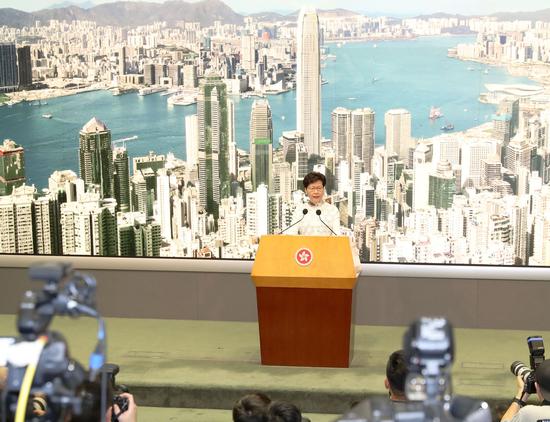 Hong Kong Special Administrative Region Chief Executive Carrie Lam speaks at a press conference at the HKSAR government headquarters building in Hong Kong on June 15, 2019. (Photo/Xinhua)
The Foreign Ministry reiterated on Monday the central government's firm support for Chief Executive of the Hong Kong Special Administrative Region Carrie Lam Cheng Yuet-ngor and her administration in delivering governance in accordance with the laws.
During a regular daily news conference in Beijing, ministry spokesman Lu Kang stressed that the central government extends its full support to the chief executive and appreciates the performance of Lam and the SAR government.
Lu said pushing Hong Kong into chaos is undoubtedly against mainstream public opinion in Hong Kong.
He reiterated that the central government strongly condemns any violence during protests and firmly supports the Hong Kong police in taking actions in accordance with the laws to safeguard the rule of law and public security in the SAR.
The central government also is resolutely against any foreign interference in China's internal affairs through making biased and irresponsible comments on the HKSAR's extradition law amendments.
After a mass protest in Hong Kong against proposed extradition changes, the Hong Kong government decided to suspend the amendment. In a written statement, Lam apologized to the public for causing disappointment and grief, and she pledged to adopt a sincere and humble attitude to accept criticism and make improvements in serving the public.
Social heavyweights also expressed their backing of Lam and expectations that Hong Kong society will reunite in the future.
President of the Chinese Manufacturers' Association of Hong Kong Dennis Ng Wang-pun said the organization understands Lam's decision. He said he hoped that with the suspension, the city's people can put aside political disputes and focus on addressing the city's economic and livelihood problems.
Members of the Executive Council-the top policy advisory body to the chief executive in Hong Kong-expressed similar hopes.
Convener of the Executive Council and businessman Bernard Charnwut Chan said he thinks the chief executive has a humble attitude toward improving future governance.
Joseph Yam Chi-kwong, an Executive Council member and prominent local economist, said he hoped the disputes would fade away so the city could return to normal and shift its focus to development issues.
Also on Monday, the Office of the Commissioner of the Ministry of Foreign Affairs in the HKSAR lodged solemn representations over what it said were some foreign media's biased coverage of the extradition law amendments in Hong Kong.
The office urged relevant media to respect basic facts of the SAR government's decision to suspend the bill and police moves to safeguard Hong Kong's rule of law and public security in accordance with the law.