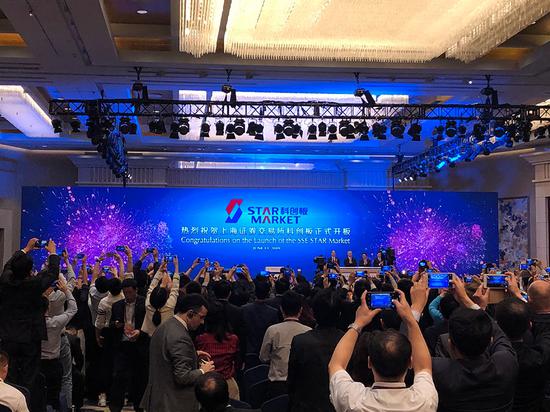 Launch ceremony of the SSE STAR Market in Shanghai on June 13, 2019. (Photo/chinadaily.com.cn)
China officially launched the highly anticipated STAR Market, or its Nasdaq-style tech board, at the Shanghai Stock Exchange on Thursday, a milestone in country's capital market development.
Yi Huiman, chairman of the China Securities Regulatory Commission, the top securities regulator, presided over the launch ceremony at the ongoing Lujiazui Forum, which opened in Shanghai on the same day.
The STAR Market, dubbed called the science and technology innovation board informally, is the first submarket of China's capital market to adopt the registration-based initial public offerings mechanism, a core system of market-oriented reforms.
The country will firmly promote reforms of the STAR Market onto other submarkets, and develop the capital market into one with more standardized rules, transparency, openness and vitality, Yi said at the ceremony.
President Xi Jinping announced in early November that China would launch the new submarket and pilot the registration system.
As of Thursday, six companies have got approvals from the SSE to go public on the new submarket and are awaiting the final green light from the CSRC. Analysts expect trading of the new submarket to commence in late June or early July.