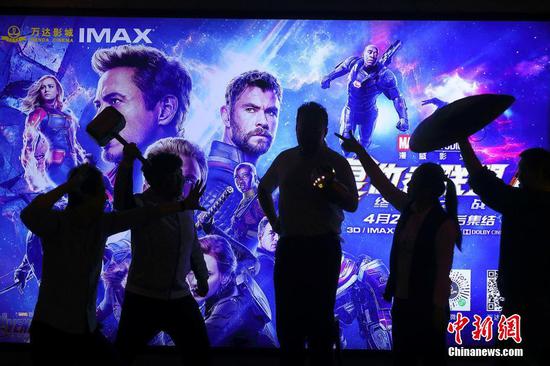 (Photo: China News Service/Zhang Yun)
Disney and Marvel's mega-blockbuster "Avengers: Endgame" smashed box office records with a tremendous global debut of 1.209 billion U.S. dollars, setting a new high-water mark for an opening weekend.
This broke the previous record for the biggest worldwide opening set by "Avengers: Infinity War" in 2018 with 640.5 million dollars. "Avengers: Endgame" is also the fastest film to cross the one-billion-dollar mark in history, doing so in only five days after it was released.
Directed by Anthony Russo and Joe Russo, "Avengers: Endgame" is a superhero film based on the Marvel Comics superhero team the Avengers. It's the 22nd installment of the Marvel Universe franchise and purported to be the last with this star lineup. The film follows the surviving members of the Avengers and their allies who work to reverse the damage caused by Thanos in Infinity War.
The film brought in a record 350 million dollars in North America through Sunday, breaking the previous record of 258 million dollars set by "Avengers: Infinity War" in 2018, according to studio figures collected by measurement firm Comscore.
Fueled by its performance in the China market, the film also obliterated expectations with a biggest ever international debut of 859 million dollars through Sunday. The previous biggest international haul was held by Universal Pictures' 2017 film "The Fate of the Furious" with 443 million dollars.
Opened last week in China, two days before it did in the United States, "Avengers: Endgame" brought in a massive 329 million dollars over its five-day launch weekend in China, exceeding the 270 million dollars prediction by analysts. It's the highest opening weekend in more than 40 overseas markets.
According to the major Chinese online ticketing service Maoyan, the film has already broken all previous box office records in China as it has become the fastest film to sell 100 million yuan (14.87 million dollars) worth of tickets.
"Nearly every box-office record was broken by this juggernaut of a film from Thursday previews to single day grosses and everything in between," said Paul Dergarabedian, a senior media analyst at Comscore, adding that the film created "an almost unimaginable record global debut."
"Audiences around the world enthusiastically embraced the film. The record smashing results reflect the power of the long-term relationship that audiences have developed with the Marvel Cinematic Universe and the characters that inhabit that universe that resulted in this incredible and unprecedented watershed moment in box office history," he told Xinhua.
According to Comscore's PostTrak audience survey, audiences loved "Avengers: Endgame" and they gave it a full 5 out of 5 stars with a massive 90 total positive score, a whopping 82 percent said they would "definitely recommend the film to a friend". In a showing of love for the film, 29 percent of patrons said they would see it again in a movie theater.
The film holds a 96 percent approval rating on review aggregator Rotten Tomatoes to date.