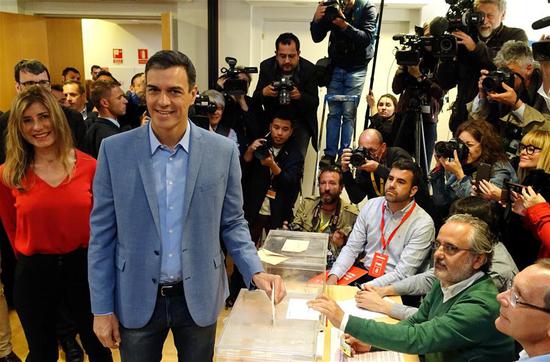 Spanish Prime Minister Pedro Sanchez (2nd L, front) casts his ballot at a polling station in Madrid, Spain, April 28, 2019. Spain's polling stations opened on Sunday at 09:00 local time (0700 GTM) for the country's third general election in four years. Close to 37 million voters are called to cast their votes in over 23,000 polling stations located in thousands of municipalities across Spain. (Xinhua/Guo Qiuda)
The Spanish Socialist Party (PSOE) of Prime Minister Pedro Sanchez has led in the Spanish election on Sunday when 95.60 percent of the votes have been counted, but will need to pact with other parties in order to form a government.
According to data published by the Spanish Interior Ministry with 95.60 percent of the votes counted, the PSOE won 28.72 percent of the votes to gain 122 seats in the 350-seat Spanish Congress.
It is 37 more than that in the June 2016 election when they won 22.63 percent of the vote and 85 seats.
The big loser of the night is the right wing People's Party, who have seen their representation in Congress halved. The party led by Pablo Casado saw their vote share crash from 33.01 percent, which gave them 137 seats in June 2016, to 16.69 percent, just 65 seats.
Ciudadanos led by Albert Rivera has seen their share of the votes climb from 13.06 percent to 15.82 percent which is translated into 57 seats, 25 more than in the last election.
Sunday also saw the extreme right wing Vox party claim their first ever seats in the Congress. The party led by Santiago Abascal claimed 10.26 percent of the vote and won 24 seats, although it is below the 30-32 seats opinion polls had expected them to win.
The leftist party Unidos-Podemos also saw their share of the votes fall from 16.97 percent to 14.30 percent and the number of representatives reduced from 71 to 42.