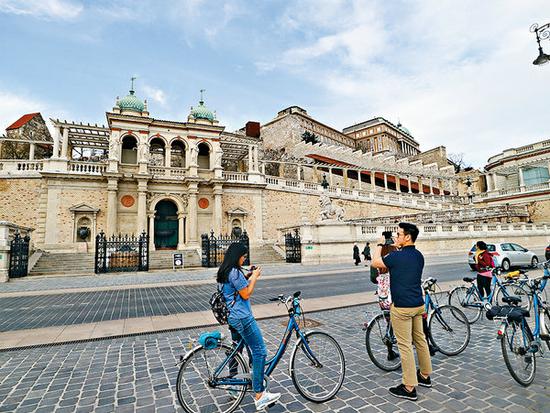 Visitors explore the city of Budapest, Hungary.(Photo provided to China Daily)
Eurail revenue to grow 10% as increasing travelers seek quality-laced memories
Chinese travelers are expected to emerge as the top group among tourists in Europe who take train rides.
This trend is expected to help travel agencies in the European Union that facilitate railway tourism in the region achieve double-digit growth.
Eurail Group, which is owned by 35 European railway and shipping companies, expects to see an up to 14-percent year-on-year surge in Chinese tourists using the Eurail pass this year, from 16,000 in 2018.
This anticipated Chinese traveler inflow is expected to boost Eurail's revenue this year by at least 10 percent, said Ding Yi, its marketing manager for Asia.
A combination of rising disposable incomes, more flexible visa policies, and the advent of digital travel tools is encouraging Chinese tourists to go beyond shopping and seek memorable life experiences during their overseas travels.
Railway journeys through picturesque landscapes are now considered one of the highlights of European tours.
Chinese travelers are already the fourth-largest source of rail tourism in the EU, after tourists from the United States, Australia and South Korea. Five years back, they were at the ninth place.
"We look forward to even more 'explosive' growth of our business as over half of Chinese travelers embark on 'free and independent' trips (that is, not being part of group tours organized by travel agencies) in the next three to five years," Ding said.
Founded in 2001, Eurail promotes the Eurail Pass, which is an all-in-one train ticket giving non-European tourists flexible access to most trains across the continent. Travelers can simply flash the pass as they board trains, which liberates them from fixed timetables.
With the latest addition of Macedonia, Lithuania and the United Kingdom to its itineraries, Eurail now covers 31 countries in Europe under three travel types: Global Pass, One Country Pass and Greek Island Pass.
To entice more travelers to railway journeys, Eurail last week slashed prices of its popular Global Pass by over 30 percent to offer an entry price of 168 euros ($188.8).
Chinese outbound tourism market expenditure is expected to grow by a compound annual growth rate of 5.4 percent, reaching more than $315 billion a year in 2020, according to estimates by the World Tourism Organization.
Contrary to a misconception that Chinese outbound travelers are crazy about shopping for luxury goods and foreign brands, they care more about gaining life-enriching experiences during their travels. Hence, unhurried visits to landmarks, museums, art galleries, theaters, sports events and music concerts, and mingling with local people to know more about culture, life and cuisine are preferred to shopping, a McKinsey survey conducted last year found.
"Local experience matters more than perfunctory visits to iconic landmarks, which is why Chinese outbound tourists no longer view such destinations as priority stops during their travels," said Alex Dichter, a McKinsey partner and an author of the report.
A survey released last month by Hilton Group and research house Kantar also arrived at similar findings. Roughly 77 percent of survey respondents said they were "open" to socializing with locals and are "self-expressive" as to share their novel experiences on social media destinations.
These trends provide impetus to railway travel in the EU among sophisticated Chinese travelers, who are looking for unusual or extraordinary experiences, said Yang Yu, Asia director of the Netherlands Board of Tourism and Conventions.
"Traveling by train is a very immersive experience, because you can talk to local people and observe the way they live and commute. Such a momentum will further accelerate Eurail's position in China," Ding said.