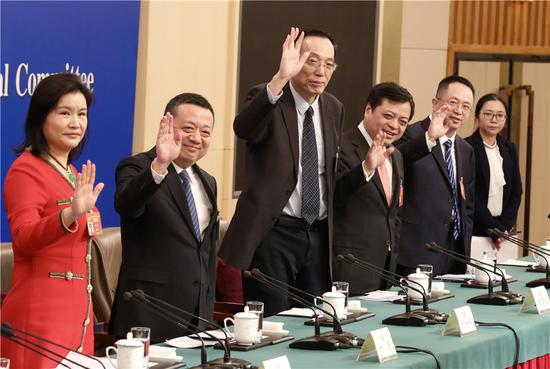 From left: Political advisers Zhou Qunfei, Ye Qing, Liu Shijin, Nan Cunhui and Zhou Hongyi wave to journalists at a news conference held during the ongoing session of the 13th National Committee of the Chinese People's Political Consultative Conference in Beijing, March 6, 2019. (Photo/China Daily)
Special: NPC, CPPCC Sessions 2019
'Manufacturing key economic growth driver', says tycoon of touch screens
More efforts are needed to create a better environment for Chinese private businesses to help inject vitality and spur innovation in the country's economy, members of the 13th National Committee of the Chinese People's Political Consultative Conference said on Wednesday in Beijing.
Liu Shijin, deputy director of the Economic Affairs Committee of the CPPCC, called for deepening reforms to offer private firms an equal playing field and a stable legal environment.
"Putting policies into practice is a top priority as China has launched an array of related policies to support private businesses, including expanding market access," said Liu at a news briefing during the ongoing two sessions.
Liu's comments came after Chinese authorities late last year pledged to unswervingly encourage, support and guide the development of the private sector, and encourage private enterprises to develop in a more comprehensive and competitive way.
Over the past 40 years, the private sector has become an indispensable force behind the country's economic development.
In addition to accounting for over half of the country's fiscal revenue, China's private enterprises are currently responsible for over 60 percent of fixed-asset investment, more than 70 percent of innovation and over 80 percent of urban employment.
Ye Qing, chairman of Beijing Yeshi Enterprise Group Co - a private company spanning real estate and financial services - said that most private firms currently do not find it difficult to raise funds. But for even smoother development, he suggested banks to give better financing guidance to small and micro enterprises.
"Financial institutions should also add more financial products, such as medium and long-term loans, to private businesses for their long-term solid development," said Ye, who is also vice-president of the All-China Federation of Industry and Commerce.
"Moreover, major State-owned banks are expected to offer loans tailored to different regions as business environments vary across different areas of China," he added.
Zhou Qunfei, founder of touchscreen maker Lens Technology, also hailed the role of an easy financing process to keep advanced manufacturing on a growth path.
"Currently in China, 90 percent of private companies are engaged in manufacturing, and advanced manufacturing is a key economic growth driver," she noted.
To support advanced manufacturing, Zhou proposed that the government should introduce more high-end talent.
"Private firms should also raise awareness of protecting intellectual property," she said.
For private businesses, mixed ownership reform could be another opportunity, said Nan Cunhui, chairman and founder of Chint Group, a leading electrical equipment maker.
"During this process, unnecessary and elaborate formalities should be removed so that private companies will be involved in giving a bigger push to China's high-quality development," he added.