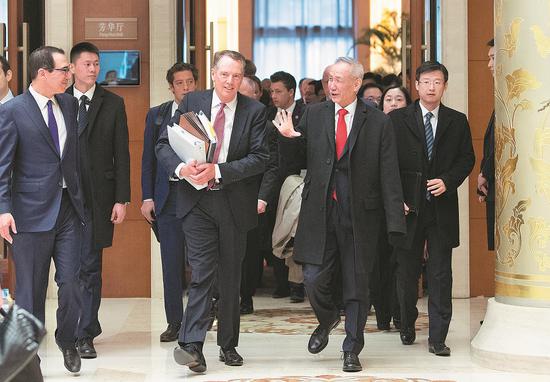 Vice-Premier Liu He, US Trade Representative Robert Lighthizer (center front) and US Treasury Secretary Steven Mnuchin (left) walk out of venue that was host to a new round of high-level economic and trade consultations in Beijing on Thursday. (Photo/Xinhua)
Observers expect Sino-U.S. meetings to bring benefits bilaterally, globally
China and the United States are scheduled to conclude the latest round of high-level economic and trade consultations on Friday, with the occasion seen as a further attempt to de-escalate trade tensions ahead of a March 1 tariff truce deadline.
Experts urged the two countries to work to better understand each other, align their interests and coordinate policies so as to benefit both sides and the rest of the world.
On Thursday, Vice-Premier Liu He, U.S. Trade Representative Robert Lighthizer and U.S. Treasury Secretary Steven Mnuchin chaired the opening ceremony of the talks. That followed two days of vice-ministerial level trade talks.
Ministry of Commerce spokesman Gao Feng revealed few details about the ongoing consultations at the Thursday news briefing. But he did say that foreign direct investment from the U.S. into the Chinese mainland recorded a 124.6 percent year-on-year growth in January.
Gao said the substantial rise of U.S. direct investment flowing into China can be attributed to the Chinese government's yearslong efforts to improve the business environment.
He said the country will make continued efforts to create a business environment that is conducive to the operation of various types of enterprises, and attract more foreign investment.
Embroiled in trade frictions for months, China and the U.S. had levied hefty import tariffs on each other. The two sides are now in the midst of a 90-day tariff truce, which began on Dec 1, when President Xi Jinping and his U.S. counterpart, Donald Trump, met on the sidelines of the G20 summit in Buenos Aires.
Intense negotiations have been conducted, and touched on a wide range of issues such as trade and structural issues.
Zhang Yansheng, a senior researcher at the China Center for International Economic Exchanges, was optimistic that China and the U.S. can meet each other halfway.
Zhang said the two sides can reach a consensus on some trade issues before March, noting that some "deeper and sensitive problems" can be shelved for future talks.
Chen Qi, who runs the Carnegie-Tsinghua Center for Global Policy's U.S.-China Track II dialogue, urged the two countries to understand each other's way of doing things, be patient concerning regulatory changes and make genuine adjustments.
"The two countries must decide where their interests align, coordinate policies and take part in rules-based negotiations," Chen said. "They should pursue domestic structural reforms to make sure that development benefits everyone and that their economic relationship is well-balanced."
Chinese Ambassador to the U.S. Cui Tiankai said China and the U.S. need to promote mutual understanding so as to enhance mutual trust and avoid strategic miscalculations.
"We need to stay open to each other and get more connected. China will open its door wider to the U.S. and looks forward to more cooperation at various levels," the Chinese envoy said at a reception for the 40th anniversary of China-U.S. diplomatic relations.
In January, China's exports to the U.S. climbed 1.9 percent year-on-year to 252.11 billion yuan ($37.21 billion), while imports from the U.S. declined 38.6 percent to 63.71 billion yuan, according to the General Administration of Customs.