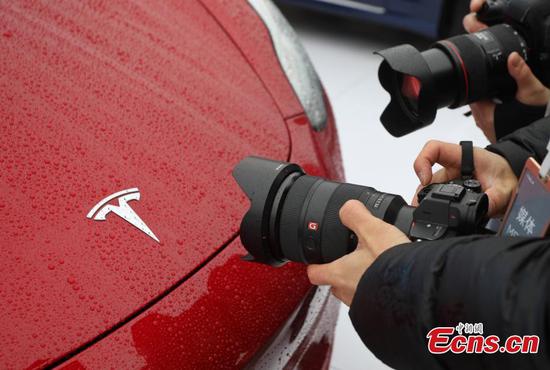 Visitors look at a Tesla Model 3 car in Shanghai, Jan. 7, 2019. Tesla plans to begin making its Model 3 electric vehicles (EV) by year-end, a first step in localizing production in the world's largest auto market. (Photo: China News Service/Zhang Hengwei)
U.S. top electric automaker Tesla Inc. Wednesday reported profits in two consecutive quarters in 2018, as the operating income in the fourth quarter of last year remained stable at 414 million dollars.
Although its fourth-quarter earnings fell short of market's expectations, Tesla said it registered better-than-expected sales with nearly 140,000 units of Model 3 sold, making the car the best-selling premium vehicle (including SUVs) in the United States for 2018.
Tesla's GAPP net income for the fourth quarter, which stood at 139 million dollars and fell short of earlier estimates of 182.5 million dollars, was impacted by a non-cash charge of 54 million dollars, said the company based in Palo Alto, Northern California.
The operating cash flow improved from the third quarter to 910 million dollars in the fourth quarter, and its cash and cash equivalents were 3.7 billion dollars at the end of the fourth quarter, increasing by 718 million dollars.
"In the second half of 2018, our cash position improved by 1.45 billion dollars... We have sufficient cash on hand to comfortably settle in cash our convertible bond that will mature in March 2019," Tesla said in its Q4 financial report.
The company said it expects to have positive GAAP net income and free cash flow in every quarter beyond the fiscal first quarter of 2019.
Tesla said it will ramp up production and deliveries in 2019 to meet the target of delivering about 360,000 to 400,000 vehicles, an increase of about 45 percent to 65 percent more than in 2018.
"Model 3 production volumes in Fremont (Northern California) should gradually continue to grow throughout 2019 and reach a sustained rate of 7,000 units per week by the end of the year," it said.
It plans to produce Model 3 vehicles at maximum production rates throughout 2019. "Inclusive of Gigafactory Shanghai (China), where we are initially aiming for 3,000 Model 3 vehicles per week, our goal is to be able to produce 10,000 vehicles per week on a sustained basis," said the U.S. e-vehicle maker.