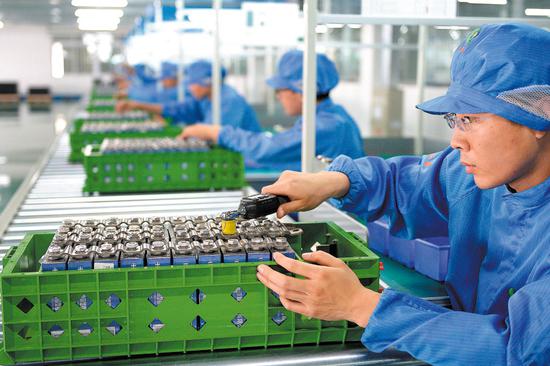 Workers assemble lithium-ion batteries at a production line in Liaoning province.(Photo by Bai Tiejun/For China Daily)
The Ministry of Industry and Information Technology said in a latest guideline that low-end lithium-ion batteries will be strictly controlled in China, and it clearly requires companies to focus on quality rather than quantity when producing such batteries.
According to the guideline, companies are not allowed to blindly expand production of lithium-ion batteries and low technology products will be phased out.
The guideline also called for accelerated efforts on research and development in the segment. For companies, R&D investment should account for at least 3 percent of total revenue.
"It means that low-end production of lithium-ion batteries is banned to some extent. It is also of significance for the sector's healthy development as it will avoid overcapacity and waste of resources," said an industry insider from a Shenzhen-based power battery firm.
Lithium-ion batteries with a greater life span and power density, are the most favored power batteries. They are regarded as a critical alternative to meet the higher demand from the new energy sector.
Data from the China Association of Automobile Manufacturers showed that amid a flat performance for Chinese carmakers last year, the new energy vehicle sector was the only one to experience growth. It rose 61.7 percent to 1.25 million units, and they are expected to soar to 1.6 million units this year.
The move also came after the ministry launched a draft earlier this month to promote the development of lithium-ion batteries, asking companies to perfect top-level policy design of lithium-ion batteries and to push for the automation of production procedures.
Han Xiaoping, an energy expert and also head of energy information website China5e, noted that lithium-ion batteries play an important role in popularizing new energy vehicles.
"China has already led the world in the production of lithium-ion batteries. The growth momentum needs to be maintained through more innovative measures and a sound market environment," said Han.
China manufactured more than 10 billion lithium-ion batteries in 2017, which was a 28 percent increase year-on-year. The figure is expected to reach 12.1 billion in 2018, a ministry report showed.
The capacity of all lithium-ion plants in China is expected to increase to 107.5 GWh by 2020, said a report from Benchmark Mineral Intelligence, a price data collection and assessment company focusing on the lithium-ion battery supply chain.