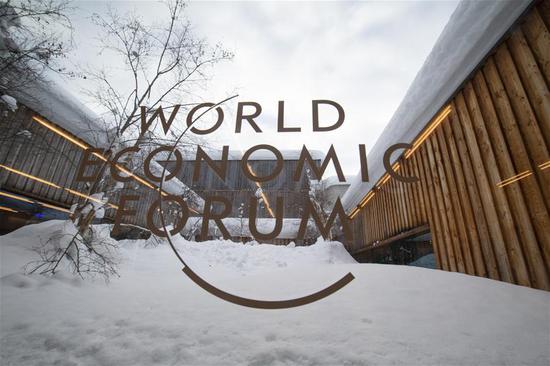 Photo taken on Jan. 21, 2019 shows the logo of the World Economic Forum (WEF) in Davos, Switzerland. (Xinhua/Xu Jinquan)
At the entrance to the main conference hall of the World Economic Forum (WEF) in Davos Tuesday afternoon, the first day of the forum's annual meeting, people crowded in a long queue, waiting for a panel discussion on advancing the Belt and Road Initiative proposed by China.
Since the queue was longer than expected, the organizer only allowed pre-registered guests to enter the venue. For many of them, China's proposals are much more popular in Davos and beyond, when globalization comes to a crossroad.
UNSTOPPABLE TREND
Themed "Globalization 4.0: Shaping a Global Architecture in the Age of the Fourth Industrial Revolution," this year's WEF meeting opened as risks hang over global growth with rising nationalism, protectionism, and political uncertainties in some wealthy countries.
Chinese Vice President Wang Qishan delivered a speech at the forum Wednesday afternoon, elaborating on the Chinese leadership's vision of globalization first outlined by Chinese President Xi Jinping in Davos in 2017, among others.
Wang told the star-studded forum that in this era of unfolding economic globalization, the entire mankind has a common stake, and that only through joint efforts can a great future be created for all mankind.
In his speech two years ago, President Xi warned that any moves to turn back to protectionism runs against historical trend.
"Whether you like it or not, the global economy is the big ocean that you cannot escape from. Any attempt to cut off the flow of capital, technologies, products, industries and people between economies, and channel the waters in the ocean back into isolated lakes and creeks is simply not possible." said Xi.
Delivering a speech at this year's WEF annual gathering, German Chancellor Angela Merkel also told audience that "multilateralism is indispensable for the prosperous development of the world."
She reminded the impact of the global economic slowdown on the existing multilateral system, noting that the current forecasts showing declining growth rates lead to a number of "disturbances and uncertainties in the multilateral system."
Charles-Edouard Bouee, Global CEO of international consulting firm Roland Berger, agreed that globalization is an unstoppable trend and the only way forward.
"Yet, it's not an easy road. It's more like climbing a mountain, and we have to be prepared, we have to be committed, we have to be consistent and we have to be convinced," he said.
CHINA'S PROPOSALS
To meet the challenges that globalization faces, Xi offered China's proposals and solutions while addressing the opening ceremony of the 2017 WEF meeting.
He stressed the importance of developing a dynamic innovation-driven growth model, a model of open and win-win cooperation featuring a well-coordinated and inter-connected approach, and a model of fair and equitable governance in keeping with the trend of the times, and a balanced, equitable and inclusive development model.
Commenting on the innovation-driven growth model, IHS Markit's chief economist Nariman Behravesh highlighted the growing role of high tech, particularly in digitalization, for cultivating new growth points for the world economy by impacting manufacturing and services significantly.
Speaking at one of the panel discussions, Microsoft CEO Satya Nadella reminded that the fourth industrial revolution also needs to deliver technology and innovation that can drive economic growth.
"We need to get back to the core challenge of economic growth. This next phase of globalization needs to deliver economic growth so that it is equitable," Nadella said.
As to the open and win-win cooperation featuring a well-coordinated and inter-connected approach, Bas Burger, CEO of BT's Global Services division, told Xinhua that Xi's proposal absolutely resonates with him, saying "we can't really do without each other."
"Globalization 4.0, the fourth industrial revolution, and our day-to-day lives are all influenced by the galloping pace of new technologies," Ueli Maurer, president of the Swiss Confederation, highlighted in his special address.
All of the big issues, namely climate change, migration, health and corruption, need collective approach by the world, Michael Moller, director-general of the UN Office at Geneva told Xinhua.
EMBRACING GLOBALIZATION
For many, the path of China's development can be the key source for both learning experiences and leading the sustainable inclusive growth of the world.
Deeply impressed by the historic change in China over the last few decades, Pakistan's former Prime Minister Shaukat Aziz told Xinhua at WEF that "it is unique and has not been experienced by many countries."
History will tell people that China is a big nation of peace, he said, adding that Chinese have no aspiration to disturb any of the current set-ups, but they can strengthen everybody.
"China embraces globalization. China being the champion of globalization is very important," Managing Director of Bahrain Economic Development Board (EDB) Simon Galpin told Xinhua.
His colleague Khalid Al Rumaihi, CEO of the EDB, looks upon China as "a model for those who want to stimulate tech ecosystems and go from being importers of technology to net exporters."
"China represents a massive opportunity for the rest of the world to see what's coming -- not only on the technologies of the future but also the way we can leverage technology to foster inclusive growth," Al Rumaihi added.
Contributing to nearly 30 percent of the world's economic growth, the world's second-largest economy grew 6.6 percent year on year in 2018 -- on firm footing, with better quality and improved structure.
"Today China is at the forefront of the digital world. It is at the forefront of cutting-edge technologies," Yossi Vardi, an Israeli entrepreneur and investor, told Xinhua.