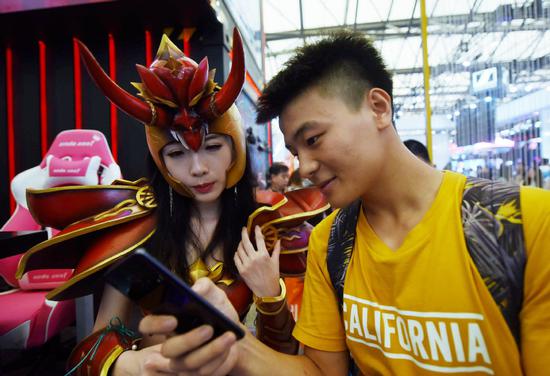 Fans look at game products on show at an industry expo in Shanghai. (Photo by Long Wei/For China Daily)
China's mobile game market is suffering from its slowest revenue growth in a decade, amid tighter regulation of a market that experts think is reaching saturation point.
China's licensing freeze lasted nine months till December, contributing to a 15.4 percent year-on-year growth in the country's mobile game industry last year, compared to the 41.7 percent year-on-year increase in 2017, according to a recent report released by gaming database Gamma Data Corp.
Buoyed by 605 million Chinese players, the nation's mobile gaming revenue reached 133.96 billion yuan ($19.82 billion), accounting for more than 60 percent of the total game sales.
Gamma noted in the report that the slowing growth is mainly due to three factors. "First, with a lack of high-quality new games, many users are attracted by other types of entertainment content. Second, it is becoming more difficult to attain sufficient users due to the growing promotion price and players' updated demand for high-quality products and better user experiences. Third, the long delay in approvals for new video games resulted in a significant reduction in the number of new games in 2018."
The approval freeze dramatically slowed down the local gaming market, amid concerns over social problems like gaming addiction and a waste of time and money on games.
In December, the Chinese government resumed the approval of new video games titles, saying it will hurry up and keep reviewing and issuing publication numbers. Till now, the government has approved a second batch of 84 new games, but two of China's largest players Tencent and NetEase remain locked out.
"Compared with the previous two years, at least 3,000 to 4,000 new games had been blocked from the market in 2018," said Liu Wei, an analyst from market research company iResearch. "The demographic dividends are wearing off, which is another factor driving the slowing growth."
Liu noted the mobile gaming market will embrace a moderate recovery, instead of explosive growth, this year.
"We estimate the mobile gaming industry will see a year-on-year increase below 20 percent this year, and the growth will hit more than 20 percent by 2020," Liu added. "The local authorities will continue new approvals, which will be a major boon to the gaming market. While the gaming sector is still under a regulatory environment of tight controls of total video games numbers, it will take a while for gaming companies to adapt to the new environment and make moves accordingly."
Dong Zhen, an analyst from internet consultancy Analysys, agreed, adding that control of the total number will also drive the gaming developers to gear up in offering more high-quality products.
"With a raft of popular short video mobile apps dominating Chinese netizens' smartphone screens, the online gaming industry also faced a shake-up," Dong noted. "Actually, short video apps have taken quite a lot of people's spare time, which leaves less time for other forms of entertainment, such as online games."
Dong said he has an optimistic view of the future development of video games. "With the next-generation 5G mobile communication technologies, gaming companies will witness new development opportunities to attract users back."