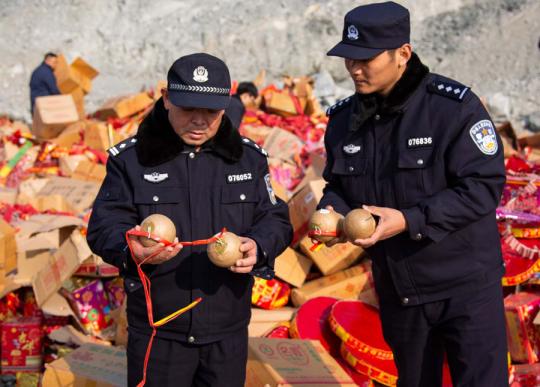 Twenty metric tons of confiscated fireworks valued at 200,000 yuan ($29,600) are readied for destruction in December in Lianyungang, Jiangsu Province. (Photo by SHAO SHIXIN/FOR CHINA DAILY)
Authorities have launched safety checks on fireworks to guarantee a safe holiday as the Spring Festival approaches.
The State Administration for Market Regulation said at a news conference on Wednesday that random inspections had found that 23 of the 150 batches of fireworks checked were substandard. The biggest problems found were shorter ignition times and loose fuses, which can pose safety hazards, it said.
Random inspections at fireworks production factories were undertaken in the past few months in the provinces of Hunan, Jiangxi, Hubei, Sichuan, Guizhou and in the Guangxi Zhuang autonomous region.
According to Sun Huichuan, the administration's deputy director of product quality supervision, the number of companies producing fireworks has dropped off in the past two years, but China remains the world's largest manufacturer and purchaser of fireworks.
There are about 1,800 fireworks factories nationwide. Hunan and Jiangxi provinces produce the most. The annual production value of fireworks is around 50 billion yuan ($7.4 billion), he said.
"Companies producing substandard fireworks will be ordered to rectify the problems, while those violating product-safety regulations in the production process will be punished," he said.
In addition, strict restrictions on fireworks purchases have been established in major cities.
The Beijing Emergency Management Bureau said an identity card will be required this year to purchase fireworks in the city in order to strengthen supervision over safety.
Authorized fireworks shops will be reduced from 80 to 30 this year, and will only be allowed to sell from Jan. 30 to Feb. 9, the bureau said.