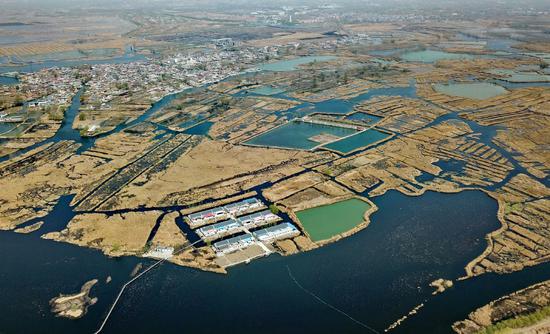 An aerial view of Xiongan New Area. (Photo/Xinhua)
Xiongan New Area in North China's Hebei province will continue to improve the business environment for private high-end and high-tech companies so they can develop well, a top official of the area said.
"Xiongan is creating a favorable business environment through aspects including the administrative system, government services, market supervision and the market competition environment," said Tian Jinchang, deputy-secretary of the Xiongan New Area Communist Party of China Working Committee, according to a report by Hebei Daily.
Businesses in Xiongan will focus on high-end and high-tech industries, such as the new generation of information technology, modern life science and biotechnology, he said, adding some leading companies in related fields have started cooperation with the area.
Among 2,039 companies that have registered in Xiongan, more than 94 percent of them are private, according to Hebei Daily.
Apart from high-tech companies, traditional businesses that have developed years before Xiongan was established in 2017 will also have opportunities.
The three counties the area covers — Xiongxian, Rongcheng and Anxin — used to be supported by traditional industries including the production of clothes, accessories, shoes, feathers and stuffed toys.
After Xiongan was set up, some new private companies in the fields of leasing, business services, wholesale and retail, scientific research and technology services started to register.
"The newcomers have helped optimize and adjust the economic structure of the private sector," Tian said.
But traditional industries need to upgrade in the direction of digitized, intelligent and green development, Tian said. Factories that pollute the environment will be shut down.