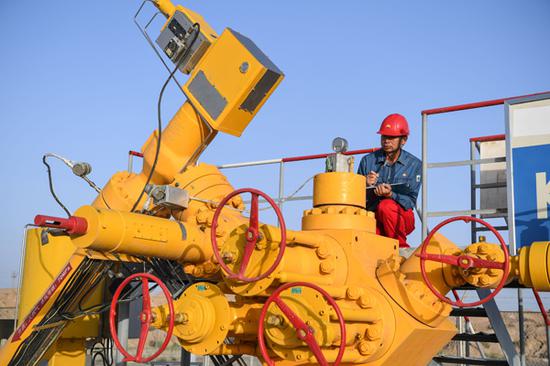 An employee collects data at Tarim oilfield in the Xinjiang Uygur autonomous region. (Photo/Xinhua)
After the drilling operations at Well Keshen 2-2-10 wrapped up successfully, it only took the drilling crews of PetroChina Tarim oilfield Co two days to put 17 single wells into production, setting a new record.
So far, a total of 100 new wells have begun production at the Tarim oilfield in Northwest China's Xinjiang Uygur autonomous region, offering strong support for the construction of the 30 million ton oil and gas field.
In order to achieve stable oil and gas production and high-efficient development, the Tarim oilfield adjusted the production of old gas fields scientifically and speeded up the restoration.
Since this year, total output of oil and natural gas in the Tarim oilfield topped 4.07 million tons and 19.5 billion cubic meters, up 273,200 tons and 803 million cubic meters, respectively, from last year.
As one of China's largest natural gas producers, the Tarim oilfield has been a key provider for a 4,000-km pipeline project bringing natural gas from the west to the east.
Currently, the oilfield has a capacity to send 25 billion cubic meters of natural gas to eastern China and southern part of Xinjiang annually, benefiting 400 million people and 3,000 enterprises in more than 120 cities.
According to PetroChina's plan, over the next three years, the oil and gas equivalent output of the Tarim oilfield will be 30 million tons, equivalent to building a million-ton oil and gas field annually.