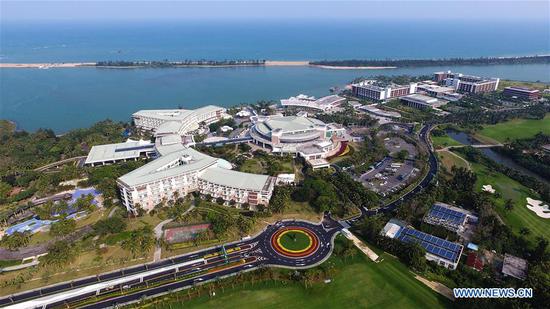 Aerial photo taken on March 22, 2018 shows the Boao Forum for Asia International Conference Center in Boao Town of Qionghai, south China's Hainan Province. (Xinhua/Guo Cheng)
Special: 40YearsOfReform
China unveiled a detailed plan on Tuesday to establish the country's southern province Hainan as a free trade zone (FTZ), in its latest move to open up the economy.
The plan, issued by the State Council, China's cabinet, mapped out the target and scope for the FTZ development while identifying key industries that will see fewer foreign investment restrictions.
"The development of the Hainan FTZ is a key measure for making new ground in pursuing opening up on all fronts. The move shows China's resolution and confidence to open wider to the world," said Vice Minister of Commerce Wang Shouwen, at a press conference.
The release of the plan followed the announcement of the decision in April to develop Hainan into an FTZ, the country's 12th and largest.
By 2020, the plan aims to build Hainan into a high-quality FTZ that promotes trade and investment facilitation, provides an excellent legal environment, thorough financial services, efficient regulation, a favorable ecological environment, and boosts the development of surrounding areas.
FEWER RESTRICTIONS
Foreign investors will have wider access in a number of key areas including tourism, education, and telecommunications, according to the plan.
A negative list approach, which outlines economic areas restricted for foreign investment, will be adopted in the Hainan FTZ.
As part of its opening-up policies, China unveiled a new negative list in June for foreign investment in FTZs, with the number of items down to 45 from 95 in the previous version.
Foreign investment caps in areas including the breeding of new vegetable varieties and their seed production as well as international maritime transport businesses will be lifted, according to the plan.
The plan also gives Hainan more autonomy in granting foreign investment access. International businesses providing value-added telecommunication services will no longer need to go through central authorities to enter the market, according to the plan.
To promote international trade, data-based systems will be put into use to improve customs efficiency while multinationals and trade companies are encouraged to treat Hainan as the center of their global or regional trade network.
In addition to the measures detailed in the plan, the provincial government of Hainan has drafted an action plan to create a better business environment, which is vital for attracting foreign investment, said Shen Danyang, vice governor of Hainan.
"One of the key agendas for the FTZ development is the innovation of mechanisms. We have to establish innovative mechanisms for a fair and efficient market environment," Shen said.
Amy Cai, board director of PwC Advisory Services (Hainan) Co. Ltd said the demand to create a better business environment provided opportunities for professional service agencies such as PwC.
"We look forward to more detailed measures. We hope Hainan will further improve investment transparency and attract more foreign investment," Cai said.
STRONGER SERVICE SECTORS
One of the key features of the Hainan FTZ development plan was that it took into consideration Hainan's distinct characteristics, according to Wang.
Specific service sectors, including medical and tourism, will receive a significant boost, analysts said.
"Generally, FTZs tend to develop manufacturing and intermediary trade, but the Hainan FTZ will be a pioneer in developing service trade," said Chen Yao, a researcher with the Hainan Provincial Academy of Social Sciences.
Domestic and foreign shipping companies will be encouraged to set up operational or regional centers in the FTZ, as part of the efforts to build the area into an international shipping hub, according to the plan.
More cruise lines that include Hainan as a destination will be developed to foster the local tourism industry, the plan said.
Known for its sandy beaches and resort-lined coast, Hainan is already a global tourist hotspot. Some 67 million people visited the island in 2017.
Tourists from 59 countries can travel visa-free if they start or transit in countries and regions with direct flights to Hainan.
The development plan also builds on Hainan's established strength in medical services.
The island is drawing a number of cutting-edge medical institutions and foreign doctors thanks to relaxed rules on importing foreign medical equipment and pharmaceuticals, as well as visa policies rolled out in recent years.
"We are investing in Hainan because of its preferential policies and good environment that is suitable for health care services and medical tourism," said Qi Nianming, chairman of Spring New Life International Stem Cellular Therapy Clinic, a subsidiary of Hong Kong firm Asia Stem Cells.
Qi's hospital was among the first group of Hong Kong-invested firms to settle in Lecheng international medical tourism pilot zone, set up in 2013 in Bo'ao, a town near Hainan's east coast.
In the pilot zone, patients can get medicine and medical equipment accredited by EU, Japan, and U.S. authorities before they have been officially accredited by the Chinese government.
This provides an opportunity for hundreds of thousands of Chinese patients traveling abroad to receive treatment. In 2017, the number was around 600,000.
According to the plan, tariffs for some medical equipment will be cut in the pilot zone.
"With the FTZ development, we expect more scientific institutions, capital, and talent to come to Hainan," said Qi, "We are confident about the future of the island."