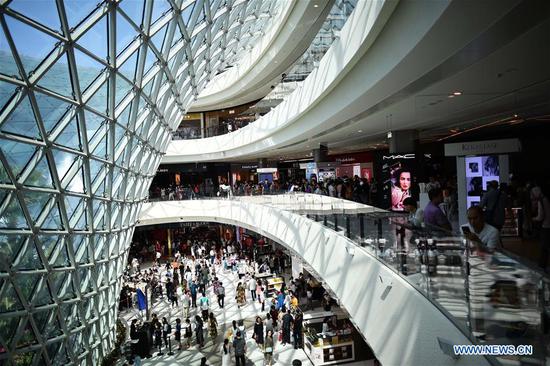 Customers visit a duty-free shopping center in Sanya, South China's Hainan Province, Feb。 18, 2018. (Photo/Xinhua)
Special: Hainan 30 years
China released on Tuesday a plan to build Hainan into a pilot free trade zone-including substantial relaxation of market access for foreign companies and upgrading of trade facilitation-to create a gateway for opening up toward the Pacific and the Indian oceans.
The China (Hainan) Pilot Free Trade Zone, approved by the State Council, will cover the whole island of Hainan. The government plans to make the zone an international tourism and shopping center, as well as offer services and support for development of the Belt and Road Initiative and other national strategies.
Wang Shouwen, vice-minister of commerce, said as a demonstration of China's resolve to further open up and promote economic globalization, the island, which covers 35,400 square kilometers, will be granted more autonomy to enact reforms and speed the fostering of a law-based, international and convenient business environment.
Hainan's FTZ will adopt pre-entry national treatment and negative list management to increase openness, especially in areas like seed production, healthcare, telecommunications, internet, aviation, marine economy and new energy vehicle manufacturing.
It will abolish stock ownership ratio limits for foreigners in new vegetable variety breeding and seed production. It will transfer the power to approve foreign investment in value-added telecommunications services from the central government to Hainan province. In addition, it will allow foreign companies to hold up to a 51 percent ownership share in life insurance companies and remove foreign share ratio restrictions in vessel and general aircraft design, manufacturing and maintenance.
Shen Danyang, vice-governor of Hainan province, said the province will establish and enhance a risk management system and mechanism.
Not counting Hainan, there are 11 pilot FTZs, including those in Shanghai and Guangdong and Liaoning provinces. Their experience in areas like administrative system reform, investment management, trade facilitation and financial innovation have been applied to other zones.
Bi Jiyao, vice-president of the Chinese Academy of Macroeconomic Research of the National Development and Reform Commission, said the new policies will push the Hainan FTZ to accelerate and strengthen infrastructure connectivity and regional integration in service and manufacturing businesses with economies of the Association of Southeast Asian Nations and other countries and regions related to the Belt and Road Initiative.
"Another main task for the Hainan FTZ is to support the policy and infrastructure facilitation for the development of Hainan free trade port," said Chi Fulin, head of the Hainan-based China Institute for Reform and Development.
Chi said development of the Hainan FTZ and the free trade port should focus on services businesses and form a new platform for the services trade in the long run.