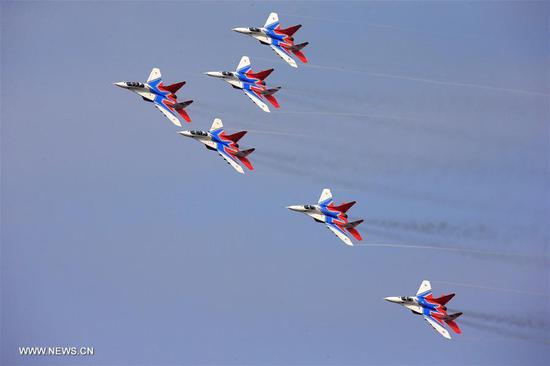 An aerobatic team from Russia perform at the 11th China International Aviation and Aerospace Exhibition in Zhuhai, South China's Guangdong province, Nov. 1, 2016. (Photo/Xinhua)
Special: Xi Attends 4th Eastern Economic Forum
A street in Far East Federal University in Vladivostok, Russia, is attracting many participants of the fourth Eastern Economic Forum, as the thoroughfare has several exhibits displaying the regions and companies of Russia's Far East.
For example, the Amur Oblast exhibit shows off the development of the aeronautics and space industry in the region.
Russia is showing increasing interest in cooperating with China on the nearby Vostochny spaceport.
Located in Tsiolkovsky, Amur Oblast, the spaceport was constructed with the encouragement of Russian President Vladimir Putin in 2007.
The first launch from the new base was carried out in April.
Alexander Molchanov, deputy general of the spaceport, said the new spaceport facility is very important to Russia.
Russia is now looking forward to starting a series of aerospace cooperation projects with China, not only those related to the new spaceport, but various forms of aerospace exchanges as well.
Earlier this month, a joint exhibition about Sino-Russian aerospace cooperation was held in Moscow, jointly sponsored by Shanghai Jiao Tong University and the Moscow Aviation Institute.
The exhibition will center on Qian Xuesen (1911-2009), a prominent Chinese scientist who contributed to Chinese aerodynamics and rocket science, with the event to feature hundreds of photos, documents and graphics.
Qian graduated from Shanghai Jiao Tong University, and made irreplaceable contributions to the establishment and development of China's aviation industry, said Lin Zhongqin, president of the university.
Mikhail Pogosyan, director of the Moscow Aviation Institute, said aerospace plays an increasingly important role, and both China and Russia pay more attention to the field and are ready to have more practical cooperation.
"Russians admire the achievements made by China in the aerospace industry. Therefore, it's our great honor to hold the exhibition in Moscow to show the achievement of our neighboring country in space science," Pogosyan said.
Pogosyan said the Russian institute would like to take the exhibition as an opportunity to enhance cooperation with Shanghai Jiao Tong University.
Li Hui, Chinese ambassador to Russia, said high-tech development of China and Russia is connected with a long history of friendly contacts.
The exhibition itself is an example of bilateral cooperation in the fields of technology, education and culture, Li said.
"We hope Russian people come to know more about Qian Xuesen, a great scientist who made great contributions to aviation," the ambassador said.