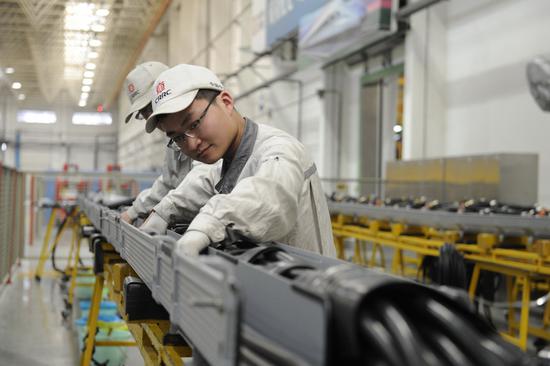 CRRC employees operate an assembly line of the company in Qingdao, Shandong province. (Photo by Zhang Jingang/For China Daily)
China's manufacturing activities gathered steam in August, adding signs to the stabilizing trend of the economy, but downward pressure persists as trade-related indicators appear to have weakened further, according to economists.
The purchasing managers index for manufacturing, which mainly gauges activities of large-scale companies and State-owned enterprises, stood at 51.3 in August, up by 0.1 percentage point from the previous month, data from the National Bureau of Statistics showed on Friday.
This is the 25th consecutive month that the manufacturing PMI stayed above the 50 level. A reading above 50 indicates expansion, while a reading below 50 represents contraction.
Senior NBS statistician Zhao Qinghe said that overall, the manufacturing sector witnessed stable expansion, and high-tech manufacturing in particular sustained robust growth momentum. Zhao noted that the PMI of high-tech manufacturing came in at 54.3, up by 1.7 percentage points compared with the previous month.
Nevertheless, uncertainties persisted, as reflected by a mixed scenario in some subindexes, which means the government needs to make further efforts to sustain the good trend, since growth of imports in the near term may be clouded by ongoing trade tensions, economists said.
In addition, funding channels may remain clogged for some enterprises, as it takes time for the country's recent fine-tuning of policies designed to foster the nonfinancial sector to take effect, they said.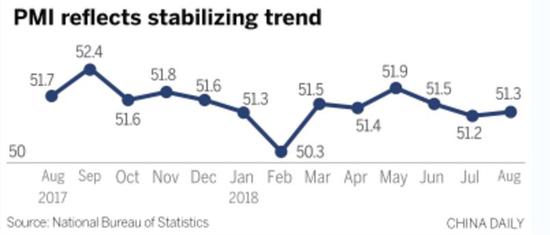 PMI reflects stabilizing trend. (Photo/China Daily)
The production subindex increased by 0.3 percentage point month-on-month to 53.3, while the new order subindex was 0.1 percentage point lower at 52.2, data show.
As trade tensions have continued and the United States has imposed hefty tariffs on Chinese exports, trade indicators were weak in general-the new export order subindex fell by 0.4 percentage point to 49.4, and the import subindex moderated by 0.5 percentage point to 49.1 in August, the lowest level since mid-2016, according to economists with Goldman Sachs.
They expect policymakers to flexibly adjust policies to maintain an easing bias in general to avoid any sharp slowdown in growth.
Weighed down by its strengthened efforts to curb pollution and a regulatory crackdown on lending, China has seen some cooling signs in recent months, with retail sales and infrastructure investment growth moderating in July.
The central government has pledged to adopt more measures to fine-tune policy in the second half of the year, putting more emphasis on stabilization of growth while continuing to fend off risks.
While the government has taken measures to prevent a sharp decline in infrastructure investment, the weak recovery of manufacturing investment and private investment growth means sustainability of domestic demand expansion remains a key concern, according to Liu Wenqi, an economist with China International Capital Corp.