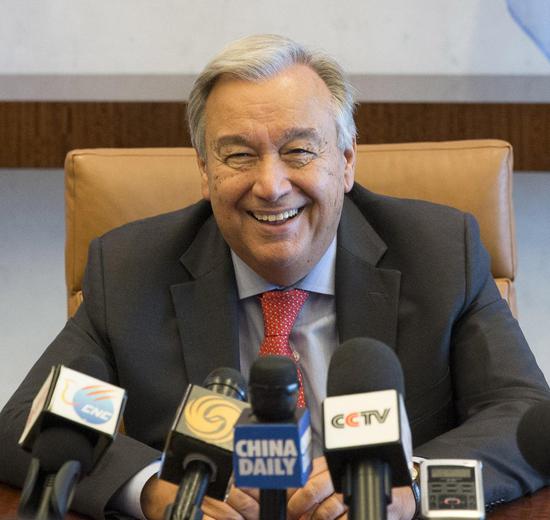 Antonio Guterres, UN secretary-general. (Photo/China Daily)
Special: Forum on China Africa Cooperation 2018
The cooperation between China and Africa is an "absolutely vital" instrument for the success of Africa's development, UN Secretary-General Antonio Guterres said on Thursday before departing for Beijing for the Forum on China-Africa Cooperation.
FOCAC "is an extremely important tool, in which it will be possible for Chinese leaders and African leaders to discuss matters of common interest", said Guterres in an interview with Chinese media at the United Nations headquarters in New York.
"The Africa-China cooperation is a central part of South-South Cooperation. South-South Cooperation is more and more important in today's world as a fundamental tool to allow for African countries to benefit from what has been the remarkable success of Chinese economic development in the past decades."
Describing himself as a great supporter of all South-South initiatives, Guterres said he believes that the UN's capacity to deliver depends a lot on success in Africa, in terms of the expectations of the world's population.
"And with the dimension and the importance of the Chinese economy, the economic cooperation between Africa and China plays a very important strategic role," he said.
The UN chief said it was "an utmost pleasure" to accept President Xi Jinping's invitation to the FOCAC summit, which will be held on Monday and Tuesday.
This will be Guterres' second trip to China this year and his third since he took office as UN chief. He said that, during his visit, he expects to discuss with Chinese authorities all aspects of activities of the UN and the three pillars of the UN, which are peace and security, human rights, and development.
His main objective is to show how much he is committed to the success of South-South Cooperation in general and to the importance of the Chinese-African partnership, which will help Africa achieve the goals of African Agenda 2063, which is in line with the UN's 2030 Agenda for Sustainable Development, he added.
African Agenda 2063 is a strategic framework approved by the African Union in 2014 for inclusive growth and sustainable development for the continent over the next 50 years.
While emphasizing that Africa needs international cooperation and also needs to lead the development of the continent, the UN chief said it's important that China-Africa cooperation, as a fundamental tool for African development, is fully in line with African Agenda 2063.
"I'm convinced that China will do everything in order to make sure it really helps create conditions for an effective and successful Africa development," he said.
According to Algerian Ambassador to China Achene Boukhelfa, the lengths of railways and of highways built by China through aid and financing in Africa had both exceeded 5,000 kilometers by April 2017.
In an integrated global economy, it is important to strengthen connectivity via investment in harbor, railway and road projects, Guterres said, adding that many of these are contemplated in the Belt and Road Initiative. Telecommunications as well as information technology connectivity are also important areas of Chinese cooperation, he added.
"I do see that the Belt and Road Initiative offers an opportunity for effective cooperation, improving the governance," he said.
Nine African countries, including South Africa, Madagascar and Egypt, have signed memorandums of understanding with China on cooperation in Belt and Road construction, according to former vice-foreign minister He Yafei. More than 20 other African countries are discussing cooperation agreements with China.