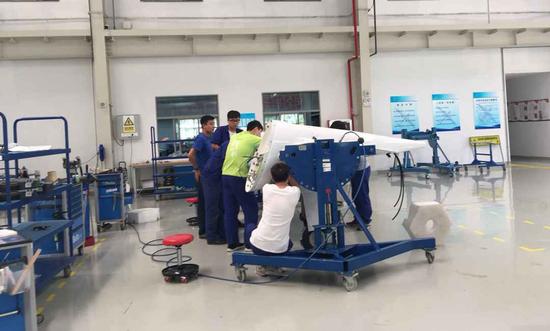 The assembly workshop of CETC Wuhu Diamond Aircraft Manufacture Company Limited. (Photo/CGTN)
The idea of having personal air vehicles may not be as far-fetched as it seems, and there really aren't any technological hurdles to this. At least that's Ping Lihao's vision of the transportation network of the future, both on the ground and in the air.
Ping Lihao, chairman of CETC Wuhu Diamond Aircraft Manufacture Company, told CGTN,"Our four-seat twin-engine DA42 now sells for about 6.5 million yuan, and ten years from now, it may only cost one million yuan or so, affordable for most Chinese households."
Based in the Wuhu city of east China's Anhui Province, CETC Wuhu Diamond was established by China Electronics Technology Corp (CETC) and the Wuhu municipal government in December 2013.
The company has cooperated with Austrian Diamond Aircraft Industries Company, producing and developing multi-purpose light general aircrafts.
"Currently our main clientele is pilot schools, rather than individual buyers," said Ping. "We hope for more policy support for the general aviation industry."
General aviation, which refers to all flights that are not operated by commercial airlines or the military, is already a 25-billion-dollar business in the United States.
Compared with about 213,000 in the US, there were 2,415 registered general aviation aircrafts in China by the end of June 2018, according to data released by the Civil Aviation Administration of China (CAAC).
In a country where the military controls 80 percent of airspace, there were formidable obstacles to expanding private air travel: lack of facilities where small planes can take off, land or refuel, as well as a dearth of low-altitude aviation maps.
But the country has moved toward the gradual opening up of its skies to the private aviation industry, which could spur growth in its fledgling general aviation industry.
The country simplified flight approval procedures for private aircraft in November 2013, a move seen as the first step toward the gradual opening up of its lower altitude airspace.
The State Council released a statement in 2016, saying the country will have over 500 airports for small aircraft only, more than 5,000 private jets, turboprops and helicopters by 2020, and 2 million hours of annual flying time in 2020.
In 2017, the CAAC relaxed a series of minor rules on flight paths, repair work and unmanned aircraft.
Just a few years ago, it would take more than a week to get approval for a private jet flight, but it only takes 24 hours now.
As much as 430,000 hours of flying time has been logged in the first half of 2018, up 14.7 percent from the same period in 2017, according to the CAAC.
The gradual opening-up would boost business opportunities for domestic aircraft makers like CETC Wuhu Diamond, and western firms such as Cessna, Bombardier, Dassault Aviation and Gulfstream, which have been investing in either manufacturing or maintenance facilities in China.
Further opening up the airspace would benefit China's tourism, emergency medical services and pilot training sectors, which operate light aircraft and helicopters.