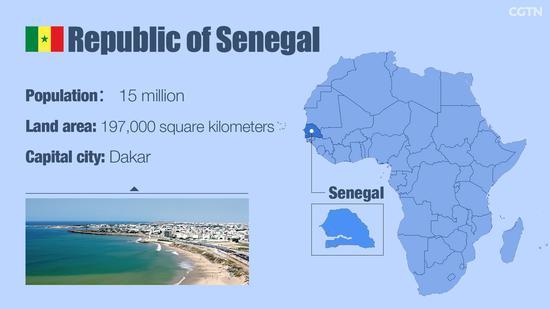 Special: Xi Visits Five Arab and African Countries, Attends BRICS Summit
China and the West African country Senegal, where Chinese President Xi Jinping arrived on Saturday for a state visit, have witnessed rapid growth in economic relations since the two sides resumed diplomatic ties in 2005.
Located at the northwest corner of Africa, Senegal is a small country that heavily relies on agriculture and fishing but is actively seeking industrialization through economic and financial collaboration with China that has benefited both sides.
Big events in bilateral economic relations
In 1971, China and Senegal established diplomatic relations.
Two years later, they signed trade and economic agreements which lasted until 1996, when Senegal resumed relations with southeast China's island region Taiwan.
In 2005, China and Senegal restored diplomatic ties.
In 2014, during Senegalese President Macky Sall's visit to Beijing, Xi Jinping proposed to enhance cooperation in economic and trade matters, transportation infrastructure and other fields, increase imports of Senegal's agricultural products, and encourage more Chinese enterprises to invest in the African nation.
In 2016, the two sides agreed to elevate bilateral relations into a comprehensive strategic cooperative partnership during the G20 Summit in Hangzhou, east China.
Bilateral Trade
Statistics from the National Bureau of Statistics show that bilateral trade has picked up steadily since 2005, and maintained at a high level since 2014.
In 2015, Senegal's exports to China surged almost three times from a year earlier to 112 million US dollars, and the momentum continued in 2016 and 2017.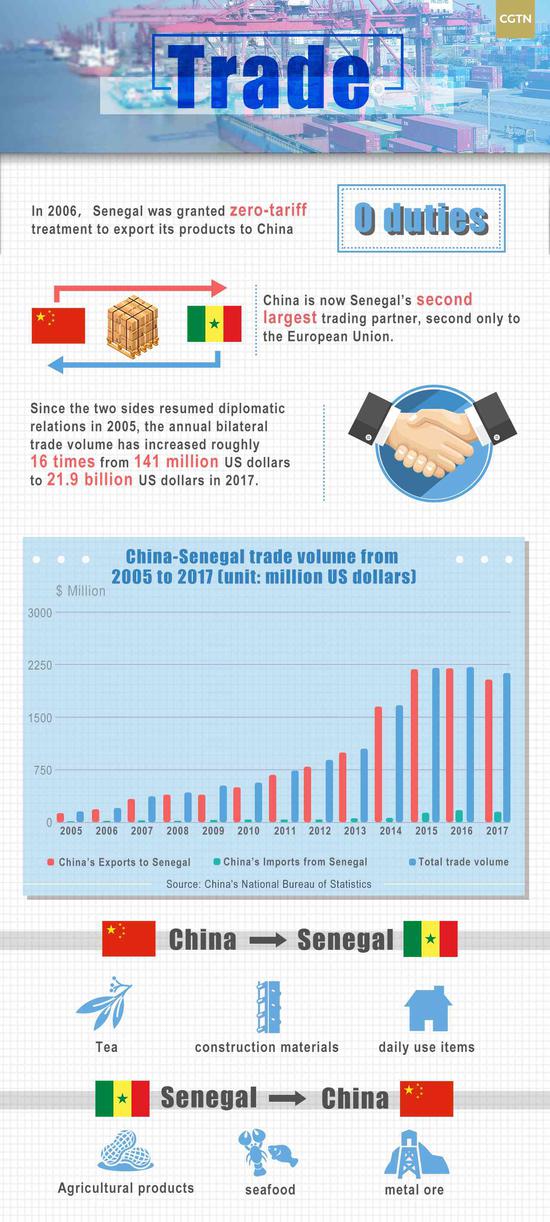 Aid and Investment
Since 2005, China has played an important role in providing investment and aid to Senegal and is its largest source of financing.
Major projects in Senegal funded by China include the Friendship Stadium, Afimiya Dam, the National Theatre, and the Black Civilization Museum.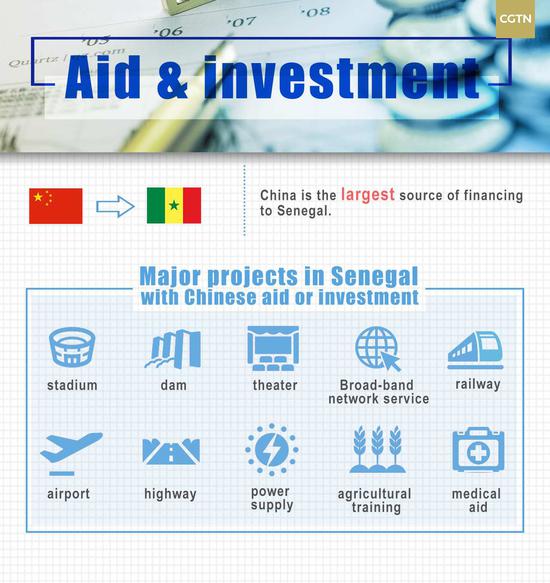 Senegal has also been a hotspot for Chinese investment in West Africa. In 2016, the total contract value of projects undertaken by Chinese enterprises reached 1.04 billion US dollars.
Chinese companies in Senegal are mainly engaged in seafood processing, peanut processing and export, and infrastructure construction.
Senegal, like most African countries, lags behind in infrastructure, which has been a major obstacle hindering its development. And Chinese companies have been taking part in large infrastructure projects including highways, the railway, the airport, power supply and broadband network service.
Senegalese economist Mohamed Kamara, who is also a former presidential adviser, said Chinese companies are contributing their experience and technical capabilities to help Africa's development.
"China-Senegal friendship has been laid on the solid foundation of economic and financial cooperation," said Abdoulaye Fall, Senegal's ambassador to China.