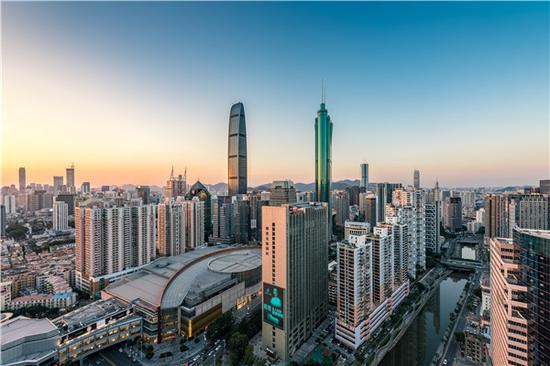 Luohu district in Shenzhen, which used to be a poor village, is now a flourishing residential area with modern apartment buildings. (Photo by Luo Haiming/For China Daily)
Special: 40YearsOfReform
China's National High-Tech Industrial Development Zones, the backbone of the country's high-tech industries, have seen stable, positive growth in the first half of this year, officials said on Monday.
The zones - industrial parks for developing industries ranging from biomedicine to electronics - have nurtured around 40 percent of China's high-tech companies, which have also become more innovative and productive in recent years, said Zhang Zhihong, director of the Ministry of Science and Technology's Torch High Technology Industry Development Center.
Government policies have made it easier for companies to invest. One result is that the zones have increased their international competitiveness, as more quality talent pours in, Zhang said, adding that many research institutes and collaborations are being established.
This year marks the 30th anniversary of China's high-tech development zones. China has added 12 new zones this year, reaching a total of 168, he said.
From January to May, the 156 national high-tech zones that provided data reported a total operating income of 12.3 trillion yuan ($1.87 trillion), an 8.1 percent increase over the same period last year, Zhang said. Those zones also yielded a net profit of around 726 billion yuan from January to May, 8.7 percent growth from the same period last year.
The national high-tech zones added more than 136,000 new companies from January to May, a 25.3 percent increase over last year. They also exported goods and services valued at 1.37 trillion yuan in the first five months of this year, accounting for 22.3 percent of China's total exports during the period.
As of the end of 2017, companies from the national high-tech zones had established 994 research institutes in foreign countries and regions, such as United States and Israel.
Cao Guoying, deputy director of the ministry's Department of High Tech Development and Industrialization, said,"The national high-tech zones have become the main engine for driving growth in China's economy, the bedrock for supporting China's high-tech industries and the key force behind China's high-quality innovation-driven growth."
In 2017, the gross domestic product of national high-tech zones reached 9.52 trillion yuan, representing 11.5 percent of the country's total GDP last year. This level of GDP ranked the high-tech zones as one of the biggest global economic forces, slightly above Russia but below the Republic of Korea, according to the World Bank.
The national high-tech zones are also improving their ability to create original, innovative work. In 2017, the zones housed more than 350 State key laboratories, 2,900 research institutes and 11,000 company technology centers, Cao said.