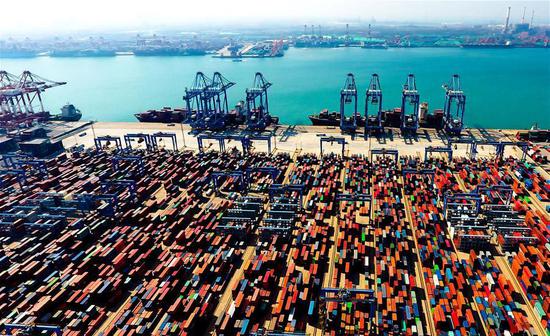 Aerial photo taken on May 4, 2018 shows an automatic container dock in Qingdao, East China's Shandong Province. (Photo/Xinhua)
China's GDP growth reached 6.8 percent year-on-year in the first half of this year, beating general market expectations, according to a government report released on Monday. Analysts said the economy remains on track but will face more challenges in the second half.
GDP growth in the second quarter was 6.7 percent, down from 6.8 percent in the first quarter, according to the National Bureau of Statistics.
Retail sales increased by 9.4 percent year-on-year in the first half of the year, 0.4 percentage point lower than in the first quarter, the data showed.
Industrial output posted steady growth in the first six months, up by 6.7 percent year-on-year, 0.1 percentage points lower than in the first quarter, the report showed.
Fixed-asset investment growth was 6 percent in the first half, 1.5 percentage points lower than in the first quarter.
Property investment growth reached 9.7 percent year-on-year in the first six months and real estate sales rose by 13.2 percent year-on-year in the same period.
Mao Shengyong, bureau spokesman, said the data showed that the country's economic growth remained stable.
He said the economy has kept its quarterly GDP growth within the range of 6.7 percent to 6.9 percent for 12 consecutive quarters.
Meanwhile, the surveyed unemployment rate was 4.8 percent, marking the third consecutive month below 5 percent. Both categories show that the economy remains resilient, he said.
Mao said the economy would remain stable in the second half of the year since domestic demand, reflected by fixed-asset growth and retail sales, is expected to remain at high levels.
Liu Dongliang, a senior analyst at China Merchants Bank, said the June report is mixed. "On the whole, the situation is better than expected, but downward pressure is increasing."
He said brisk real estate sales and rapid consumption of necessities and property-related goods in June will contribute to stable growth of the Chinese economy, but falling infrastructure investment and a cooling down of industrial output are major concerns.
Considering the ongoing financial tightening and the adverse effect of China-U.S. trade frictions on growth, China will face greater pressure in the second half.
"It is a crucial time to test the policy determination of policymakers. If they want to continue to lower the debt levels, they should tolerate the risk of downward growth. If an economic growth slowdown might trigger debt risks, it may necessary for them to shift to a growth-stabilizing stance."
The International Monetary Fund has forecast China's economy would grow at 6.6 percent in 2018-unchanged from its April projection-in its latest World Economic Outlook report.
The report said the risk of current trade tensions escalating is the greatest near-term threat to global growth.