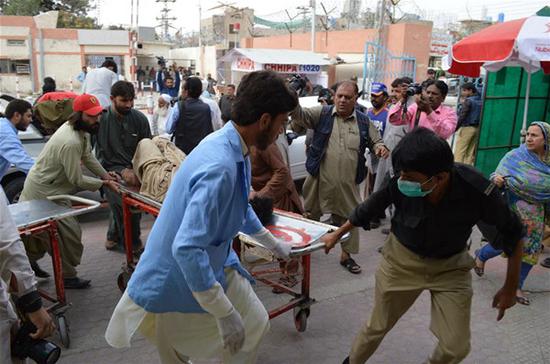 People transfer an injured man to hospital in southwest Pakistan's Quetta on July 13, 2018. At least 30 people were killed and 60 others injured after a suicide blast hit a convoy of a politician in Mastung district in southwestern Pakistan on Friday, according to local reports. (Xinhua/Irfan)
The recent terrorist attacks on political rallies in Pakistan have spread a wave of fear among political parties and common people across the country, which is heading toward its general elections on July 25.
Over 70 people, including a candidate of provincial assembly seat, were killed and over 120 others sustained injuries on Friday when a suicide bomber targeted a rally in Mastung district in southwest Balochistan province.
Earlier in the day in another incident, at least four people lost their lives and 37 others were injured when a roadside bomb blast hit a political rally in Bannu, a district of northwest Khyber Pakhtunkhwa province.
On Tuesday, a suicide bomber exploded his explosive-laden vest amid workers of Awami National Party (ANP) during a meeting in the northwest provincial capital of Peshawar, killing 20 people and leaving 62 others injured. A provincial leader of ANP Haroon Bilour, who was campaigning to contest for a provincial assembly seat, was also killed in the attack.
So far, the terrorists have attacked workers and candidates of four different political parties, including Pakistan Tehrik-i-Insaf, ANP, Balochistan Awami Party and Jamiat Ulama-e-Islam.
Pakistani interim Prime Minister Nasir-ul-Mulk and Army Chief General Qamar Javed Bajwa condemned the attacks.
Leaders of all major political parties condemned the attacks and urged the government to provide foolproof security to the politicians, especially to those who are contesting elections and are under threat.
Saeed Chaudhry, director of Islamabad Council for International Affairs, said the recent attacks have alarmed bells and if special and quick measures are not taken, terrorists will conduct more attacks in the coming days to disrupt the upcoming elections.
"The frequent attacks by the militants are threatening the political parties and also damaging their electoral campaigns," said Chaudhry, adding "these parties, which represent a large section of the Pakistani electorate, are feeling unsafe and want foolproof protection, which is their basic right."
The Pakistani army has already vowed to play its due role to support the Election Commission of Pakistan to conduct free, fair and transparent elections, by providing security to the election process across the country. The army said that 371,388 security forces personnel will be deployed at 85,300 polling stations planned for 105.95 million eligible registered voters in the country.
Asif Haroon Raja, director of the Measac Research Centre, said military operations starting from 2014 have substantially improved the overall security situation in the country by dismantling the safe haven of militant organizations. However, he feared that the recent attacks are being conducted by the terrorists hiding in Afghanistan, who are entering Pakistan through the unchecked border between Pakistan and Afghanistan.
Pakistani security forces along with police have achieved success in intelligence-based operations against the handlers, facilitators, financiers of terrorists spread in all parts of Pakistan.
Security has been declared high alert across the country, especially in eastern Punjab province after thousands of people started the march toward the provincial capital of Lahore to welcome former Prime Minister Nawaz Sharif who is scheduled to reach Lahore on Friday night from London after an anti-corruption court sentenced him to 10-year imprisonment in a corruption case.
The National Counter Terrorism Authority on Monday told the Senate Committee on Interior that almost all the leading politicians, belonging to almost all mainstream political parties, are facing serious security threats in the backdrop of the general election.
"Pakistan's elections are always full of mess. Elections are also become a pretext for different groups fight with each other, manage attacks on their rivals."
Chaudhry worried that such terrorist attacks are spreading panic among people, which would finally affect the voters' turnout on the election day.
Bilawal Hussain, a resident of Islamabad, told Xinhua that following the attacks, citizens are fearing to go out to join the election campaigns.
"The attacks are hurting people psychologically with an aim to stop them from participating in the elections. There is an urgent need of stern action to curb the rising militancy," said Hussain.