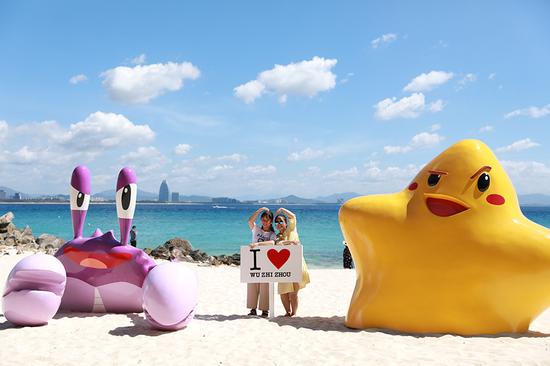 Two women pose for a photo at the beach of Wuzhizhou island in Sanya, Hainan Province. (Photo provided to China Daily)
Island province moves away from dependence on real estate-focused growth, shifts toward tourism, modern service and high-tech industries
Hainan Governor Shen Xiaoming reiterated that the province will wean itself away from too heavy a reliance on property, instead focusing on sustainable development in areas such as tourism, modern services and high-tech industries, in line with the blueprint charted by the central government.
He made the comments at a provincial conference held recently in Haikou, the island province's capital city.
In early April, the central government unveiled plans to build Hainan into a free-trade zone by 2020 and to establish a free trade port there by 2025. The announcement came as Hainan celebrated its 30th anniversary of being designated a province and special economic zone.
The decision once again brought China's southernmost and only tropical province to the forefront of reform and opening-up. It sparked a speculation craze that saw housing prices skyrocket overnight despite cooling policies already being in place.
In 1987, the year before Hainan was established as China's only provincial-level special economic zone, there were few high-quality buildings and hotels, its GDP was only 5.73 billion yuan ($864 million), and local fiscal revenue was less than 300 million yuan.
By 2017, Hainan's GDP had reached 446.25 billion yuan and the local fiscal revenue hit 67.4 billion yuan, with the real estate industry accounting for about half of GDP, according to official statistics.
Lessons learnt
In the past, Hainan has learnt painful lessons from its overheated property market. A housing bubble that burst 25 years ago left many projects across the island derelict, resulting in a huge number of nonperforming bank loans and leaving many investors penniless.
It took many years for Hainan's growth momentum to pick back up, said Li Renjun, president of the Hainan Institute of Industrial Economy with Hainan University.
Thanks to its warm sunshine, sandy beaches and tropical resorts, Hainan has become a popular place for people to visit on holiday and buy a house of their own in recent years.