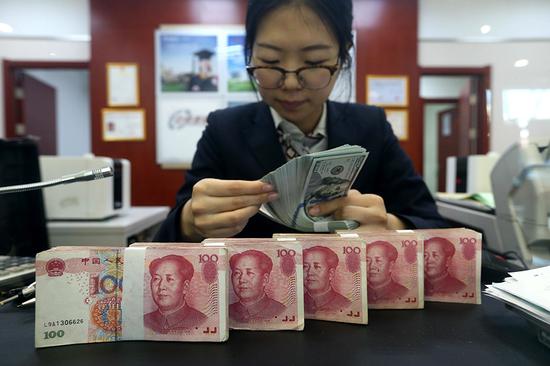 A clerk counts US dollars at a bank in Taiyuan, capital of Shanxi Province. (Photo/China News Service by Zhang Yun/)
A prudent and neutral monetary policy would not only stabilize China's short-term economic growth, but also assist the long-term transformation toward high-quality development, a central bank advisor told China Daily.
The People's Bank of China, the nation's central bank, has already fine-tuned its monetary policy this year without changing its overall tone, to "proactively sustain economic growth at an equilibrium level", said Liu Wei, president of the Renmin University of China, and a member of the central bank's monetary policy committee.
In the short term, there is still room for further measures to provide liquidity, for the sake of economic growth and due to concerns over financial stability, according to Liu.
The potential economic downside risks could lead to further fine-tuning to stimulate demand, which is likely to constrain the current financial deleveraging process to some extent, he said. "However, in fact, the liquidity provision does not contradict deleveraging, and structural deleveraging will be further deepened, especially to reduce the debt level of companies with low productivity.
"At this stage, major indicators of the nation's economic growth, including inflation and unemployment, are within the macroeconomic policy target zone, despite recent declines in fixed-asset investment and the total retail sales of consumer goods," said Liu, stressing that the prudent and neutral monetary policy is successfully playing a role in stabilizing growth momentum.
In terms of exchange rate policy, central bank governor Yi Gang said earlier that China would continue with a managed floating exchange rate regime based on market supply and demand with reference to a basket of currencies.
Central bank advisor Liu said that China is confident of maintaining the renminbi exchange rate at a stable level, although it saw some depreciation during the last month.