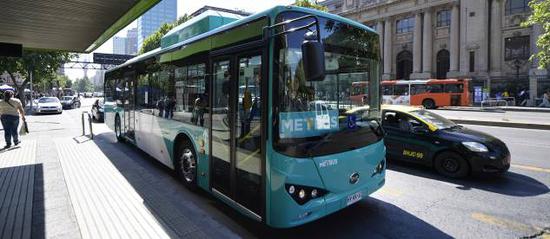 BYD pure electric bus operating Metbus Line 516, covering Santiago's main arteries. (Photo courtesy of BYD Co. Ltd.)
New-energy technology company BYD has signed a deal to deliver 100 "pure electric" K9FE buses to Chile's capital city of Santiago. The collaboration with Chilean energy distributor ENEL will see the delivery of the e-buses and commencement of their operation by Transantiago, Chile's public transport system, in late November.
ENEL and BYD introduced two pure electric buses in Santiago last November as Chile moves towards electrifying its public transport system. The buses, which are presently operating along eight of the city's most important road arteries, have earned official recognition.
The additional fleet set to arrive in Chile at the end of the year will also operate on Santiago's main avenues, such as Grecia, Vicuña Mackenna and Alameda under the Metbus system. The vehicles will be equipped with BYD's latest battery technology, customized for the Chilean market and for compliance with local transport regulations.
The move to incorporate an all-electric bus fleet into their public transportation system makes Chile a regional pioneer in electrified urban mobility, serving as a model that can be implemented in other markets. Its operation is expected to have a positive impact on overall quality of life in the city.
BYD Chile spokeswoman, Tamara Berríos, said, "Operating a BYD pure electric bus is equivalent to reducing carbon emissions from 33 cars. In addition, BYD pure electric buses are safe, quiet and can reduce operating costs by as much as 70 percent. Moreover, a BYD pure electric bus only requires 70 Chilean pesos to run per kilometer, compared to 350 Chilean pesos per kilometer for internal combustion engine buses. We believe that we can deliver on both quality and safety."
Since its inception in 1995, the Shenzhen-based BYD Company Ltd., one of China's largest privately-owned enterprises, has positioned itself as an industry expert in rechargeable batteries and an advocate of sustainable development. Its creation of a zero-emissions energy ecosystem -- comprising affordable solar power generation, reliable energy storage and cutting-edge electrified transportation -- has made it a global leader in the energy and transportation sectors.
With a presence in more than 200 cities around the world, BYD is listed on the Hong Kong and Shenzhen Stock Exchanges, and was ranked by the Chinese Passenger Car Association as the number one seller of new energy vehicles in the world between 2015 and 2017.