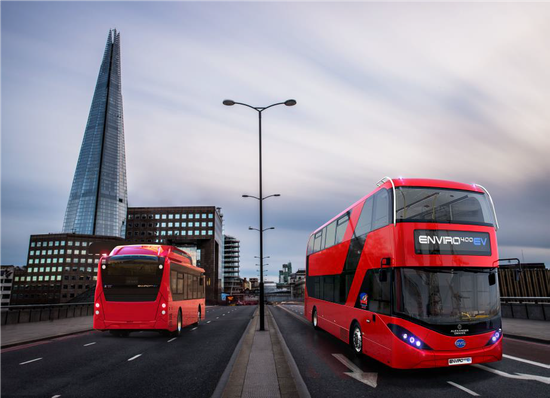 1133b1c7-21fd-48eb-9e7f-d6f6ac3024c6
The winning partnership of China's BYD and Britain's Alexander Dennis Ltd. has scooped up the largest part of London's first order for fully electric double-decker buses. Thirty seven BYD ADL Enviro400EV buses will enter service with the Transport for London (TfL) operator Metroline in the second quarter of 2019.
Using the proven combination of BYD electric technology and ADL's stylish bodywork and passenger-friendly interior, the Enviro400EV is a new concept as the U.K.'s double-decker market leader. The vehicle is a joint BYD-ADL product and was designed between ADL's facility in Scotland and BYD's R&D Centre in Shenzhen, China. The finished buses will be assembled in Britain by ADL.
The 10.9-meter-long electric double-deckers will feature ADL's urban style body with a glazed staircase built to TfL's comprehensive specification. They will use BYD's Iron-Phosphate battery technology, which enables the buses to run all day on a single charge by using cost-effective off-peak electricity.
The buses, to be based at Metroline's Holloway Garage in north London, will serve the intensive Route 43 running through the heart of the city from London Bridge in the south to Friern Barnet in the north.
Holloway Garage was opened in 1907 as a tram depot, later switching over to trolleybuses and later still to diesel buses. The charging stations will enter service in the middle of this year, managed by BYD's smart-charging battery management system. They will service not only the new double-deckers but also Metroline's fleet of 23 10.8-meter single-decker BYD ADL Enviro200EV buses.
In October 2015, BYD supplied Metroline with five Chinese-built double-deckers – the first in the world. These pilot vehicles have performed well on TfL's Route 98, spanning the length of Oxford Street. They are estimated to have provided over 100,000 miles of service, saving 140 metric tons of emissions.
Metroline's CEO, Jaspal Singh, said, "Operating zero-emission all-electric buses on Route 43 confirms Metroline's continued commitment to London, our customers and Transport for London. The 37 new BYD ADL Enviro400EV's have very impressive environmental credentials." He added that this latest investment by Metroline "underscores our resolve to lead the industry and continually deliver the very best service for London."
Isbrand Ho, managing director of BYD Europe, commented that the joint team has already made impressive progress in the employment of single-decker buses along TfL routes, but that with 6,800 double-deckers driving on the streets of London, full electrification is crucial to maximizing positive impact on air quality. "We are delighted, in the face of intensifying competition, to win the largest first order for electric double-deck buses in London and to retain our position at the top of the electric bus sales league," she stated.
According to ADL's CEO Colin Robertson, "So far the Enviro200EV single decks have delivered in excess of 1.5 million miles of zero emission transport in the U.K." He said that the new contract "takes the BYD-ADL collaboration to a whole new level," adding, "We look forward to continuing our journey of improving air quality, while responding to the operational demands of our customers and the requirements of their passengers."