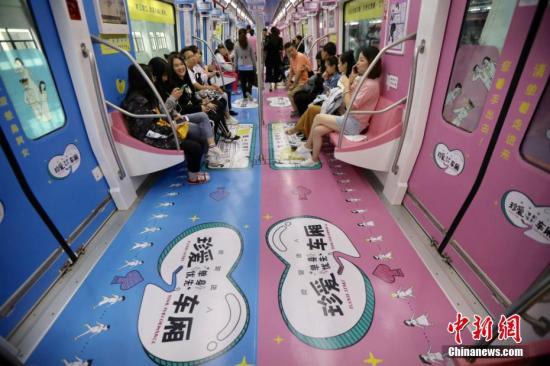 A subway train in Nanjing, Jiangsu Provicne, is decorated with romantic elements. (Photo/China News Service)
What's common to bicycles, homes, cars, trucks, high fashion, basketballs, umbrellas, jewellery? Easy-all are part of China's magical sharing economy. The list has just got longer as love has been hurled into it.
Consequently, a nubile friend of mine, who was a bit conservative and used to avoid online dating platforms as if they were plague, is now active on Yihao Chuanmei app.
Yihao's USP is "sharing". Users can introduce their single friends to their "circles". Such singles are called "love-hunters", whom other love-hunters and users in the circle could contact, meet, date.
Such services are legitimate business these days. Beijing-based consultancy Analysys reports that the Chinese online dating market pulled in more than 1.1 billion yuan ($150 million) in revenue in the first quarter of this year, up 9.3 percent year-on-year.
My friend said Yihao is reliable as it targets "high-end" groups. Users and love-hunters are mostly top executives of well-known companies or startups. Their personal information is authentic, verified and strictly protected.
"When I see fellow love-hunters pair up, even I feel a sense of accomplishment," my friend said.
As an icebreaker, a single can tip some money to a fellow love-hunter. The latter will get to know about the overtures in real time.
Yang Xin, a love and marriage analyst from consultancy Analysys, was quoted in a media report as saying that "singles tend to have few contacts, have little time to date offline and have doubts over the authenticity of online dating.
"The sharing economy model solves the problem of allocation of resources. The combination of online dating and sharing economy can help expand their circles of friends in an atmosphere of trust."
As Yihao grew in popularity, it caught the eye of investors. Angels have invested 7 million yuan so far. Xu Xiaoping, co-founder of Beijing-based fund ZhenFund, figures among the investors.
Official data showed 130,000 users by September last year and more than 40,000 love-hunters-impressive strides over six months.
I have tried the app myself and was surprised to find an array of CEOs and founders of leading companies among the users and love-hunters. They all have their own circles.
For instance, Jack Ma, founder and CEO of Chinese e-commerce giant Alibaba, has recommended 46 males and 21 females who work in his group to his Yihao circle. What's more, his leads helped form 30 couples, according to the analytics on his homepage.
Not just individuals, even corporates like Huawei Technologies Co Ltd are joining Yihao to set up their own circles, where their single employees are introduced to each other.
The other day, my friend told me excitedly that one of the couples she had helped pair up has decided to get married. "Sharing is loving," she chirped.