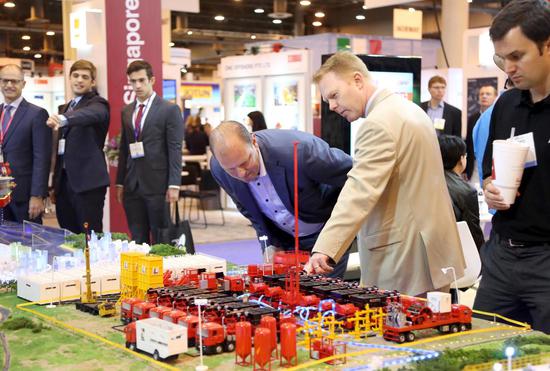 U.S. businessmen show interest in the booth of a Chinese enterprise during an oil expo in Houston, the United States. (Photo by Wang Huan/China News Service)
Houston's exports to China have been growing more than 26 percent a year for the last five years, in part because of the increasing amount of oil sent to China. But the current trade spat with the U.S. could interrupt that growth and hurt the city, says the president and CEO of Greater Houston Partnership.
"We are not only looking at crude oil but also refined products, more importantly, liquefied natural gas (LNG). China has announced its strategy to convert energy consumption from coal to gas. There are a lot of opportunities for Houston to strengthen that relationship with China. That could be upset by the dispute," said Bob Harvey.
Harvey discussed the issue with China Daily on Tuesday at a spinoff event of Select USA. A group of Chinese officials and business executives, led by Lu Jian, division director at the Department of Commerce of Jiangsu, met with local business leaders to exchange information and seek cooperative opportunities.
Harvey said that in the last two years oil production in Texas has been growing, making the state the leading crude oil producer and exporter in the U.S..
For Houston – known as the world capital of energy – the trade dispute could hurt the city since oil is such a big part of its economy, he said. "Most U.S. crude oil exports are leaving either at Houston or Corpus Christie," noted Harvey.
U.S. exports of crude oil to China reached more than 18 million barrels in March, up from more than 15 million in January, according to the U.S. Energy Information Agency. At the current price of around $75 a barrel, that translates to about $1 billion dollars a month.
When the Trump Administration last week placed 25 percent tariffs on $50 billion worth Chinese goods, China immediately retaliated by imposing equal tariffs on U.S. products worth $50 billion, including oil.
Harvey sees the current situation as tit-for-tat posturing and positioning by both sides. He warned that continuous posturing can result in real damage.
"For example, we would like to sign long term LNG contract, but no one is signing any contract in this environment. We are already impacted. If we don't sign a contract with China, we will see depressed prices in the U.S.," he said.
While the U.S. does have legitimate trade concerns with China, Harvey said he would like to see them resolved amicably and respectfully, not through a trade war. "I want to believe reason would prevail. It's not in either country's interest to end up in any kind of prolonged trade war," he said.
Wang Yu, deputy consul general of China in Houston, spoke at the gathering and emphasized that China is always against a trade war, but not afraid of one. It's regretful to see the U.S. administration demonstrate a flip-flop and regression behavior on the trade issue, he said, however, "China is still positioned to resolve the dispute through constructive dialogue''.