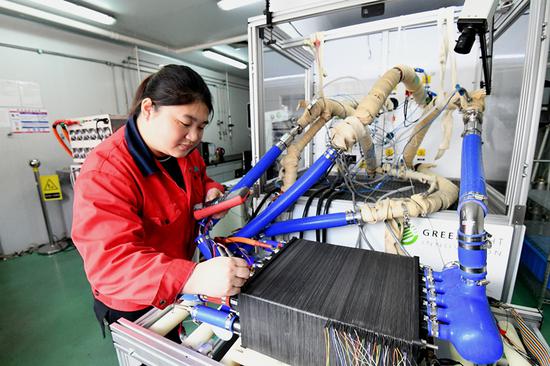 An inspector in Nantong, a city in Jinagsu, tests hydrogen fuel cell. (Photo/Xinhua)
China, the world's biggest vehicle market, will phase out the production and sale of fossil fuel cars in the near future, which will give the new energy vehicle sector a major boost, according to experts.
"Vehicle fumes account for over 80 percent of the country's emissions of carbon monoxide and hydrocarbons, and 90 percent of nitrogen oxide and particulate matter emissions," said Sun Fengchun, vice-president of the Beijing Institute of Technology.
"The rapid development and popularization of new energy cars and the economically viable and socially beneficial solutions they offer mean it's only a matter of time before they fully replace fossil fuel cars."
Figures released by the China Association of Automobile Manufacturers show that sales of new energy vehicles topped 777,000 in 2016, a year-on-year rise of more than 50 percent.
Meanwhile, in September, Xin Guobin, vice-minister of industry and information technology, told a forum in Tianjin that the ministry had started "relevant research" and was working on a timetable for China to cease the production and sale of gasoline-powered vehicles.
The move is similar to plans announced by France and the United Kingdom to outlaw the sale of petrol and diesel cars and vans from 2040 and clamp down on harmful emissions.
Also in September, the government issued a policy that will require automakers to produce an as yet unspecified number of new energy cars from next year, while gradually reducing the use of conventionally fueled cars. In June last year, the National Development and Reform Commission announced that it would not approve any new car projects that used fossil fuels, and would encourage the development of new energy vehicles.
"China is following the European countries' technological road map to develop new energy vehicles. The government's willingness to work out a timetable is further evidence of the move toward new energy vehicles," Sun said.
In October, Chongqing Changan Automobile Co announced that it would stop selling conventional cars by 2025, but would continue to produce hybrids.
Meanwhile, in December, Beijing Automotive Group announced that it would phase out the sale of its self-developed conventionally powered cars in Beijing by 2020, and also cease production and sales nationwide by 2025 as part of its new energy car campaign.
"There is no doubt that new energy cars are an inevitable trend and the future of transportation, but it's unlikely that customers will abandon gasoline cars overnight. It will take some time for new energy cars to really become part of people's daily lives," Sun said.