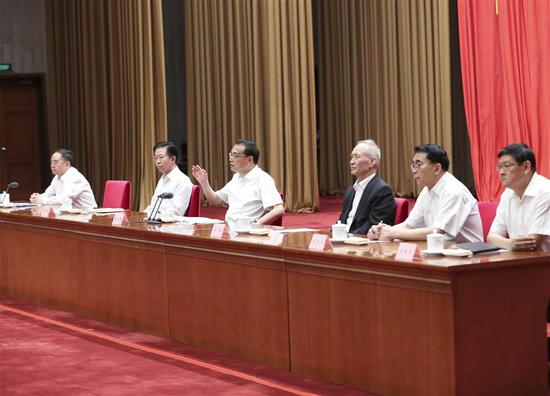 Chinese Premier Li Keqiang (3rd L) delivers a report on economic and social development during the 19th Meeting of the Academicians of the Chinese Academy of Sciences (CAS) and the 14th Meeting of the Academicians of the Chinese Academy of Engineering (CAE) in Beijing, capital of China, May 29, 2018. (Photo/Xinhua)
China will put more efforts into improving education, employment and basic research to realize high-quality growth, Premier Li Keqiang said.
Li made the remark as he spoke about China's current economic status to a full house of academicians from the Chinese Academy of Sciences and the Chinese Academy of Engineering at the two academies' biennial gathering on Tuesday.
Li expressed his gratitude to the academicians for their continuing hard work and contributions to the country's development and innovation.
China's economy has maintained steadily growing momentum, Li said, with the growth rate remaining between 6.7 percent and 6.9 percent for 11 consecutive quarters, while the employment rate has continued to rise.
Business profits are growing, with 16,700 new businesses registered daily in the first four months, and the country's major growth driver has shifted to consumption, Li said.
Pointing out that complex external factors have brought great uncertainty to China' s economic growth, he said China will fully implement new development concepts and deepen reform and opening-up to maintain a healthy social and economic development.
Human resources are the best advantage China has in its development, Li said, and the government needs to give top priority to maintaining employment and improving services in creating jobs and expanding entrepreneurship.
Noting that a large base of workers is a huge motivator in driving China's development, Li said more efforts are required to broaden channels of employment and for employers to fully develop their strengths.
More efforts are required in developing education, and input for education needs to increase steadily, Li said.
Compulsory education and vocational education require particular efforts so as to nurture more workers, researchers and talents that adapt to high-quality development, Li added.
The premier said it is important for the government and companies to increase investment to basic research, so that scientific researchers can get down to their work for original breakthroughs.
He said "green channels" should be given to scientists to break administrative hurdles in areas such as using research funds and talent evaluations, while bonuses for the National Science Prize will be increased.