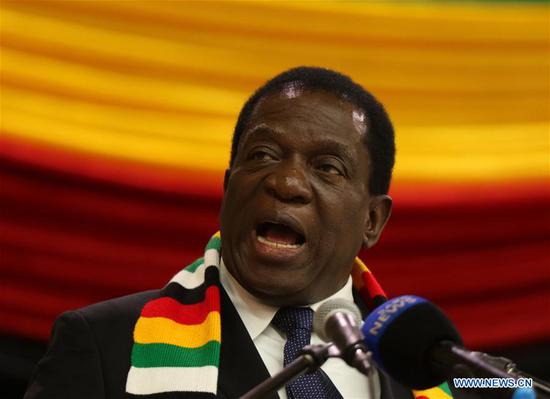 Zimbabwean President Emmerson Mnangagwa addresses a meeting in Harare, Zimbabwe, May 30, 2018. President Emmerson Mnangagwa announced Wednesday that Zimbabwe will hold general elections on July 30. (Xinhua/Shaun Jusa)
President Emmerson Mnangagwa announced Wednesday that Zimbabwe will hold general elections on July 30.
He made the announcement in a government gazette where he also set June 14 as the date for the sitting of the nomination court for prospective candidates to register.
He set Sept. 8, 2018 as the date for the election runoff in the event that no presidential candidate gets an outright win of 50 percent plus one vote.
In the notice, Mnangagwa said he had fixed "Monday, the 30th day of July, 2018, as the day of the election to the office of President, the election of members of the National Assembly and election of councilors."
The elections will be the first without former President Robert Mugabe and his fierce opponent for 20 years, Morgan Tsvangirai who died in February this year from cancer.
Mugabe resigned in November last year after a military intervention, ending his 37-year stay in power.
The proclamation of the election date comes a day after Mnangagwa signed the Electoral Amendment Bill into law.
The enactment was published in an extraordinary government gazette on Monday night.
The election date also follows the closure of the 11-day provisional voter's roll inspection on Tuesday.
The new Electoral Act gives effect to the Statutory Instrument on the Biometric Voter Registration (BVR) that was undertaken by the Zimbabwe Electoral Commission (ZEC) through the Presidential Powers (Temporary Measures) Act, which had a lifespan of six months.
The law amends some sections of the Electoral Act of 2004 to complete the alignment of certain provisions of that Act with the new Constitution and enhance ZEC's independence.
It also gives ZEC more control over the accreditation of election observers, authority to allow accredited observers to monitor all electoral processes, and to provide more clearly for polling station voters rolls.
The new Act also makes voters' rolls more accessible, removes ZEC's monopoly on the provision of voter education, and obliges ZEC to enact codes of conduct to be observed by traditional leaders, members of the security services and civil servants, among other things.
Mnangagwa has promised to deliver free, fair and credible elections and his government has since invited 46 countries from across the world to observe the general elections.
The observer countries include some from the West that had not observed Zimbabwe's elections since 2002 when relations with Harare soured.
Since the beginning of the year, several regional groupings in Africa and the European Union, among others, have sent pre-election observer missions to Zimbabwe.
Mnangagwa, 75, will face the 40-year-old leader of the opposition MDC-Alliance Nelson Chamisa in the presidential poll.