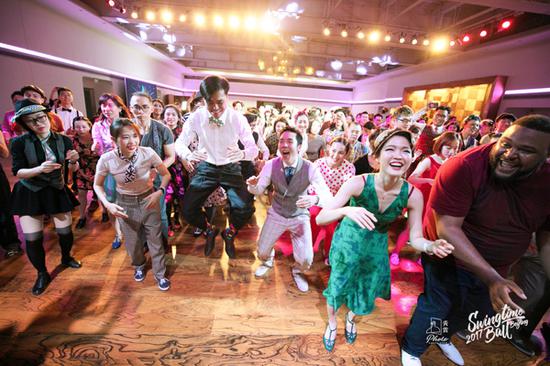 People enjoy dancing at the Swingtime Ball in 2017, initiated by Zeng Weiming (third from left, front row), one of China's first swing dancers. (Photo provided to China Daily)
The roughly century-old US music genre's subculture started gaining a foothold in China about a decade ago.
"About 80 people attended the first Swingtime Ball in 2012," founder Zeng Weiming says.
"The number exceeded 500 last year."
The 35-year-old was one of China's first swing dancers.
He earned a living by playing saxophone with a Beijing jazz orchestra in 2007.
The group's Chinese American leader, Adam Lee, persuaded Zeng to take up the old-fashioned dance style as a pastime.
Lee went on to teach others in Beijing.
After a year, Zeng decided to seek master classes and camps in countries where the genre is popular.
He wouldn't have been able to attend if not for the support of the swing community, who crowdfunded his trips to South Korea and Sweden in the hope that he would teach them when he returned.
"The spirit of camaraderie that permeates through the swing community makes me feel a strong sense of responsibility to help the swing scene develop in China by teaching local fans the moves I learned overseas," Zeng says.
He rented a ballroom in the capital's Haidian district to offer swing classes in 2012. He and his partner mostly taught friends, initially.
Two years later, he bought a basement space to open Cat's Corner swing studio, "a cozy home for swing dancers in Beijing".
"It's a place for us to practice and rehearse, deliver classes and hold parties to tighten the bonds of the community," Zeng says.
The community has continued to grow, and there are now seven places in Beijing regularly visited by about 2,000 dancers, according to Zeng's "conservative" estimate.