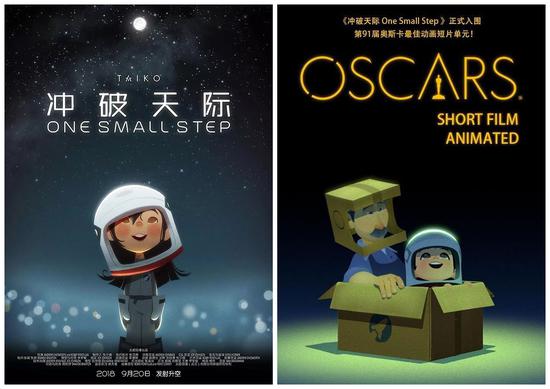 Posters of the film [Photo/Mtime]
Family-friendly Chinese animation One Small Step has been nominated for Best Animated Short Film at the 91st Academy Awards, which will be held in Los Angeles on Feb 24.
"We are very excited. It's very unexpected. We didn't feel that we would be shortlisted or nominated. This piece of news is a very big surprise for us. Now all the production staff are cheering for the nomination," said Zhang Hande, chairman of the film's producer, Taiko Studios.
The seven-minute story highlights the bonds of family and the pursuit of dreams. It follows the touching story of a Chinese girl named Luna who dreams of becoming an astronaut.
Her cobbler father often gives her moon-patterned boots on her birthday, as a way to show his support for his daughter.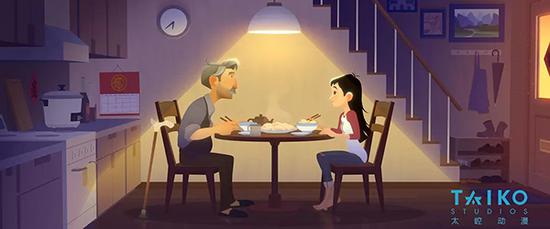 Still of the film [Photo/Mtime]
As Luna grows up, she tries to realize her dream, but continues to fail. She also has to cope with the death of her father.
She falls into a depression, before one day, entering her father's studio, she sees the boots he made her. This lifts her spirits, and she eventually becomes an astronaut.
"The animation draws inspiration from the lives of Chinese female astronauts Liu Yang and Wang Yaping," Zhang said.
"With lovely design and sentimental themes familiar to fans of modern Disney or Pixar, this touching project has a lot of appeal for animation-lovers of all ages," said film critic Jason Sondhi.
Zhang together with his son Zhang Shaofu, CEO of the studio, opened Taiko Studios in 2017 in Wuhan city, Central China's Hubei province.
Zhang Shaofu has studied animation since he was a child. He established the studio in his hometown because "Wuhan is developing very fast. There are many animation-related industries thriving there, it can recruit excellent animation talent, and the cost of starting a business is also relatively low."
The studio comprises two teams from Los Angeles and China, and the two teams collaborate via the internet.