The collection of Chinese hardstone carvings from the late John Pearce (1918-2017) up for auction. (Photo provided to China Daily)
A collection of jade linked to a wartime escapee will go under the hammer at Christie's Fine Chinese Ceramics and Works of Art sale during Asian Art Week in London on Nov. 6.
The Chinese hardstone carvings were collected by John Pearce, who successfully escaped from a Japanese prisoner-of-war camp in Hong Kong during World War II.
Pearce was born in Hong Kong in 1918 into a family that had a long connection with the Far East. He was sent to school at Charterhouse and returned to Hong Kong in the mid-1930s, where he joined the trading house Hutchison.
At the outbreak of World War II, Pearce joined the Royal Artillery and manned anti-aircraft guns near Deepwater Bay. But, on Christmas Day in 1941, allied troops in Hong Kong surrendered to the Japanese after 18 days of fierce fighting and Pearce was incarcerated in the Sham Shui Po prisoner of war camp.
In April 1942, Pearce and three comrades escaped through a sewage tunnel and then swam into territory controlled by Chinese troops.
Pearce rejoined the war effort as a major in the intelligence service, helping prisoners of war escape from Japanese camps.
He drew up important maps issued to all air forces operating in the Pacific, and was appointed an MBE by George VI for his efforts.
For 40 years, until he was in his 90s, Pearce lived in some splendor in a suite at the Hong Kong Mandarin Oriental hotel. He also became a noted bloodstock breeder and racehorse owner before dying in 2017 aged 98.
The main pieces in his collection of jade were purchased from renowned Chinese art dealer TY King in the 1950s and 1960s.
Included in his collection is a large white jade group of cranes from the Qianlong period (1736-95), which is likely to fetch at least 50,000 pounds ($65,000).
Kate Hunt, specialist head of Chinese art and ceramics at Christie's, said: "The crane and peaches are a very auspicious pairing. This is very pale white stone, very even in color and that is very important for our jade collectors, they really focus on white and very pale celadon porcelain."
She said the piece has been "beautifully undercut, which is another sign of the time and quality of the piece"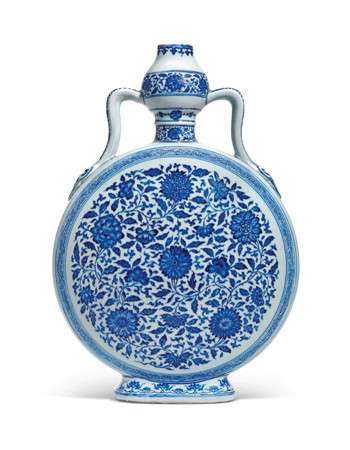 Auction house Christie's highlight lot is a rare large Ming-style blue and white moonflask. (Photo provided to China Daily)
Other highlighted items in the sale include a rare large Ming-style blue and white moonflask from the Yongzheng period (1725-35), which is expected to sell for more than 1 million pounds.
"It's like an East meets West cultural exchange, all in this vase," Hunt said. "The shape is based on metalwork from central Asia and the Islamic world and these cultural exchanges happened along the Silk Road, so the shape isn't typically Chinese."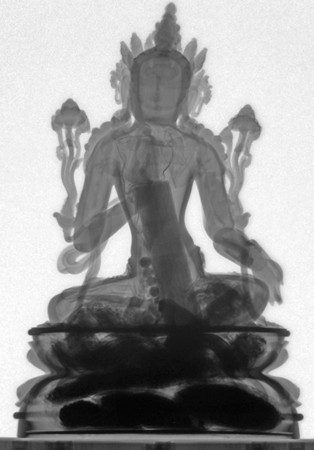 Radiograph showing the interior of a rare gilt-bronze figure of Avalokiteshvara with an estimate of £200,000 at Christie's. (Photo provided to China Daily)
The auction house will also offer The Soame Jenyns Collection of Japanese and Chinese Art, which is led by a gilt-bronze figure of Avalokiteshvara (1426-35), which has an estimate of 200,000 pounds.
Radiological examinations of the figure have revealed small consecratory objects inside it, including a miniature scroll, various textiles fragments, and possibly four beads.