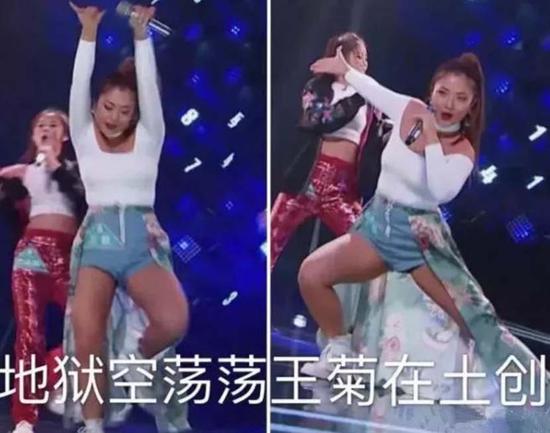 Screenshots of Wang Ju dancing onstage during a performance. /Tencent Photo
Young, slim and sweet-mannered, these are the standardized characteristics of being a popular female idol in China. But Wang Ju, who has been trending on Chinese social media for the past few weeks, is anything but these.
The 25-year-old is one of the contestants of Produce 101 (China), a survival reality show aired online. The eponymous hashtag has reached seven million reads on Weibo after its seventh episode, which was broadcasted on June 2.
Wang's looks, bronze skin, and strong figure, as well as her personalities – being frank, casual and funny, was mocked widely by netizens.
Things have changed since a steady fan base burst in and brought the girl from Shanghai to become "the most popular constant" in the sixth episode.
The reputation of Wang emerged after she spoke out for being different.
"Some people say that I don't fit in girl idol groups. But what girl idol groups should be like? The right of redefining is in your hands," Wang once said in the show.
"Independence, ability, care and elegance are what I have learned [in my high school]," she said.
The rebellious image of Wang has received thumbs up online, with many Weibo users from the minor community calling her "inspirational" and "encouraging."
"What Wang Ju is facing is just what we have experienced too," said DanlanLGBTZixun on its Weibo account. Danlan is one of the most popular gay discussion forums in the country.
However, Wang, who has more than 39,000 followers on the Twitter-like social platform in China, is considered as "you and me" by most of her fans.
"We see ourselves on her, we see the ordinary," a fan of Wang, whose screen name is Juneiren, told Bjnews.
Wang is the latest of a group of celebrities challenging the appreciation of beauty in China. Li Yuchun, the pop star, and Wang Peiyu, Peking Opera artist, are both prominent examples illustrating the diversity of taste.
For the producers of Produce 101, the popularity of the Wang is something predictable. "We have picked some contestants without perfect appearance," Ma Yakun told China Entrepreneurs magazine. "The standard is controversial, with some love it and the others hate it." Ma is the senior vice-chairman of Penguin Tencent Pictures, the producing company of the reality show.
The finalists will be 11 contestants, representing 11 irreplaceable tastes, he said.
"Young people now have independent tastes and judging principles. We will let them decide," said Sun Li, chief director of Produce 101.